Ryburgh Remembers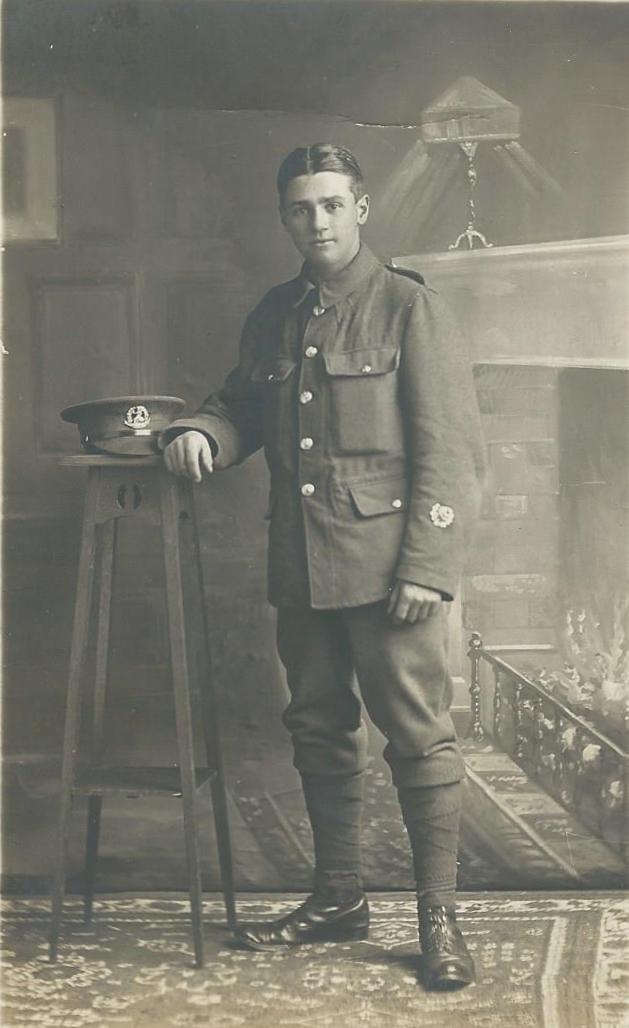 Stanley Curson.
15/11/1897 - 19/4/1917
Stanley Curson ( believed to be pictured above ) was the 8th of 10 surviving children born to John and Sarah Ann Curson (née Wilkerson) both of Great Ryburgh. They were married in 1887 although not in the Parish Church of St Andrew. They lived in Mill Road according to the Census returns for 1901 and 1911 and probably in the cottage nearest the Rectory on the map below.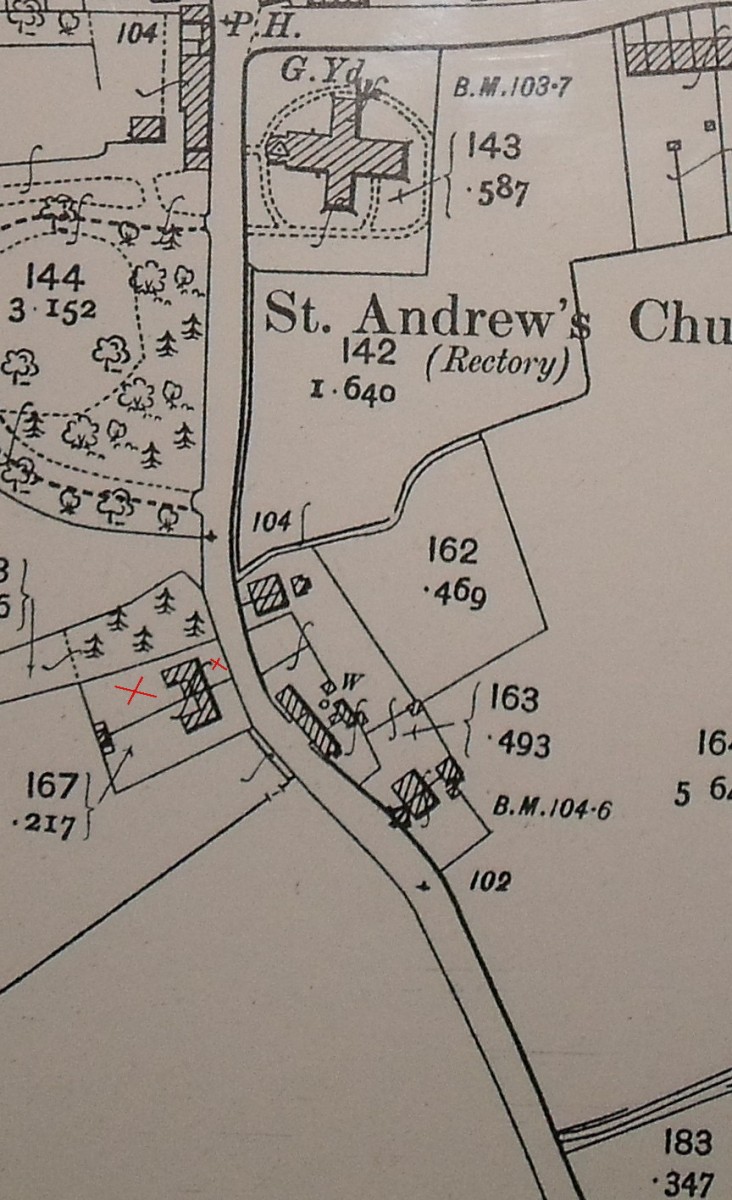 and "Near the School" probably after John's death when they no longer had a tie to the Maltings' owned properties in Mill Rd.
Stanley was born on November 15th 1897. He attended the village school from the day after his 5th birthday in 1902 where he is listed No 60 in what was then the new register (and the earliest of those to survive).
There is reference more than once to the family in the surviving school records:
In 1908

and February 1909

Headmaster, Albert Foster subsequently pencilled "Dead" in the Register margin beside No 60 and also in the case of just four other pupils.
Stanley left school on 30th June 1911, when the Register says he went straight into "employment". According to his surviving but very fragmentary service record, he is described as a labourer.
His father John had been a stationary engine driver at the Farmers Foundry before going on to work first as a labourer and then again as a stationary engine driver at F & G Smith's Maltings. John died in 1912 in hospital in Croydon and was buried at St Andrew's on 18thJune that year.
As found on his Attestation form, "the said Recruit has made and signed the declaration and taken the oath before me at Norwich on this 27th day of November 1915".
He was appointed to the Norfolk Regiment on 25th Jan 1916 and became No 241173 Private Stanley Curson 1/5th. Btn. Norfolk Regt.
His Home training lasted 164 days until 7th July 1916 after which he joined the M.E.F. until his death in Palestine on 19th April 1917. His military career lasted exactly 1 year and 86 days.
Ryburgh Parish Magazine June 1917
We have received too the sad news that Stanley Curson is missing, but trust yet we may hear of his being found as W. Wilkin, in a Red Cross Hospital.
The internet shows three singed pages from the "burnt records" all that has survived of his service record and it is these that have provided the sketchy details above along with the stark facts of his death and place of burial.
Name: Stanley Curson
Death Date:19 Apr 1917
Death Location: Palestine
Enlistment Location: Norwich, Norfolk
Rank: Private
Regiment:Norfolk Regiment
Battalion:1/5th Battalion (T.F.)
Number:241173
Type of Casualty:Killed in action
Theatre of War: Egyptian Theatre
Buried:
Gaza War Cemetery, Gaza, Gaza Strip. Plot: XXIII.B.7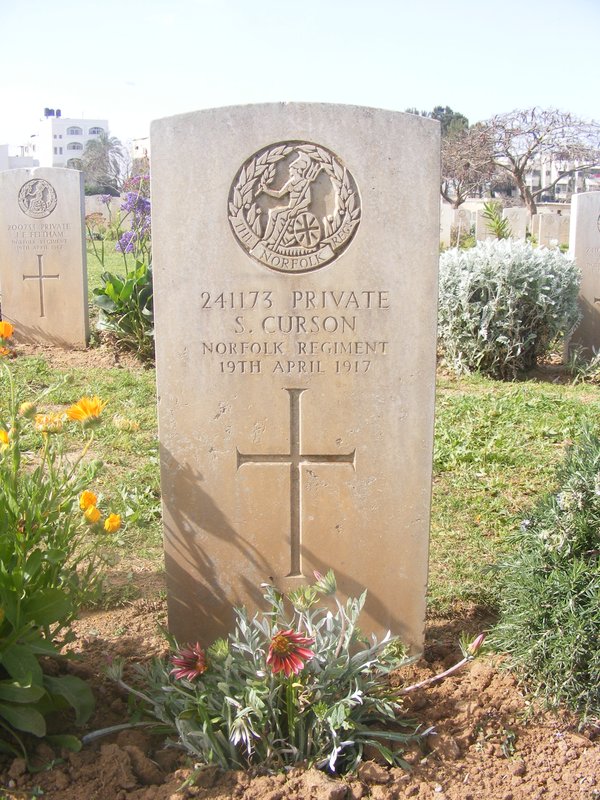 photo courtesy of
Ibrahim Esam Jeradeh, Gaza Strip
Stanley's name appears on all the Memorial sites in the village and is found with his two brothers and a cousin on the Roll of Honour.

Great Ryburgh Village Hall Memorial Panel.
The Curson family at War
John (Jack) Curson.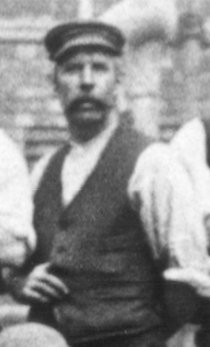 This image is cropped from the group photo of Maltings' workers dated 1902
Born April 1858 in Little Ryburgh and died in 1912 at Croyden General Hospital as seen in this extract from the St Andrews's burial register:

Spouse
Sarah Ann Wilkerson
Birth 20 Mar 1866 in Norfolk, England
Death Mar 1928 in Norfolk, England
Children & Spouses
Ethel May Curson (b. Jan 1886) in Great Ryburgh married Arthur James Pennell (b. Jan 1889 West Barsham)
Ethel May died in August 1988
Arthur James Pennell married Ethel May in Paddington on April 5th 1913. Herbert Stein Chandler (see below) was one of the witnesses to sign the register.
Arthur James Pennell enlisted in Great Yarmouth at the end of December 1907 aged 18 in the Royal Artillery (Royal Horse Artillery and Royal Field Artillery) but was transferred almost immediately to the Royal Garrison Artillery as a Gunner to serve 8 years with the Colours and a further 4 with the Reserve. However he transferred to the reserve in Jan 1914 but was posted to the 108 Heavy Battery in France on August 6th with the British expeditionary Force. He fought in France for 77 days during which time he was wounded but was back in France again from March 1915 to November 1917. He suffered a further injury at this time, the result of some ammunition exploding in the fire he was cooking by! Though classed as a self-inflicted injury, and subject to an official enquiry, he was not found "culpable" and his service record describes him thus:
"He bears an exemplary character, is honest, sober & trustworthy. He is accustomed to the care of horses & an excellent rider & one of the best drivers in the Battery"
He was discharged in July 1920 as no longer physically fit for war service and with a small disability pension which expired in January 1921.
Their daughter Ruby Adelaide born April 1913 has this recollection of the day the family heard that Stanley had been killed.
At the time Ruby had been staying with her Grandmother in Ryburgh and came home from school and could not find her grandmother. She went into each room calling her and then down to the outside toilet where her grandmother, having received the telegram, was sitting crying. She said to Ruby ' you go inside my woman, I will be there in a minute'.
This photo was taken by Steve Bushby when Ruby came to visit Ryburgh Church in 2014 with her daughter Dawn: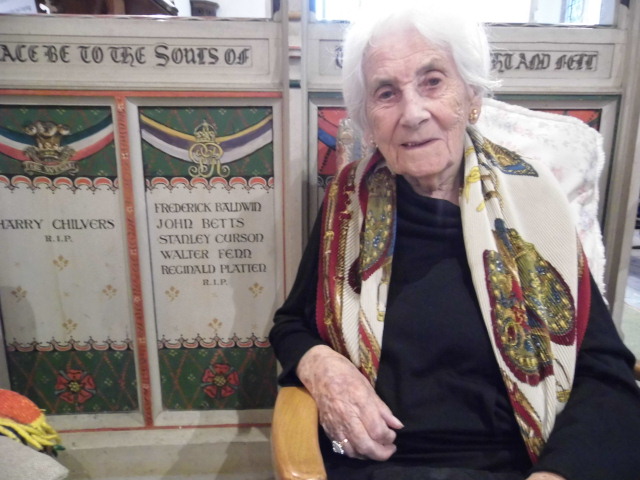 ***********
Grace Pera Curson
Birth Dec 1888 in Great Ryburgh
To date , the last trace of Grace is in the 1901 Census aged 13

Both Grace Pera and her younger sister Audley Stassie were baptized together as part of a noticeable backlog of baptisms postponed during the years of the deeply unpopular Rector, Revd. Morris Fuller and carried out on the arrival of Revd. Henry Fowler-Baker.
Audley Stassie Curson married Herbert Stein Chandler (b. Oct 1887 in Crayford, Kent)
Birth 1890 in Great Ryburgh
Death 28 May 1950 in Middlesex
Herbert Stein Chandler and Audley married at St Andrew's Gt. Ryburgh on 10th September 1913. Herbert is listed as a mechanic and his father David an "ex policeman" in the register. The 1911 Census confirms that he was an Engine fitter (motor omnibus company).
***********
General Curson (b. July 1891) in Great Ryburgh married Nona Winifred James (b.13th Dec 1902).
This photo is of Sgt. General Curson serving in India with his wife Nona. Married 26th October 1922 in Bangalore, Madras with their daughter and son in 1923. They returned to Liverpool where they had two more children.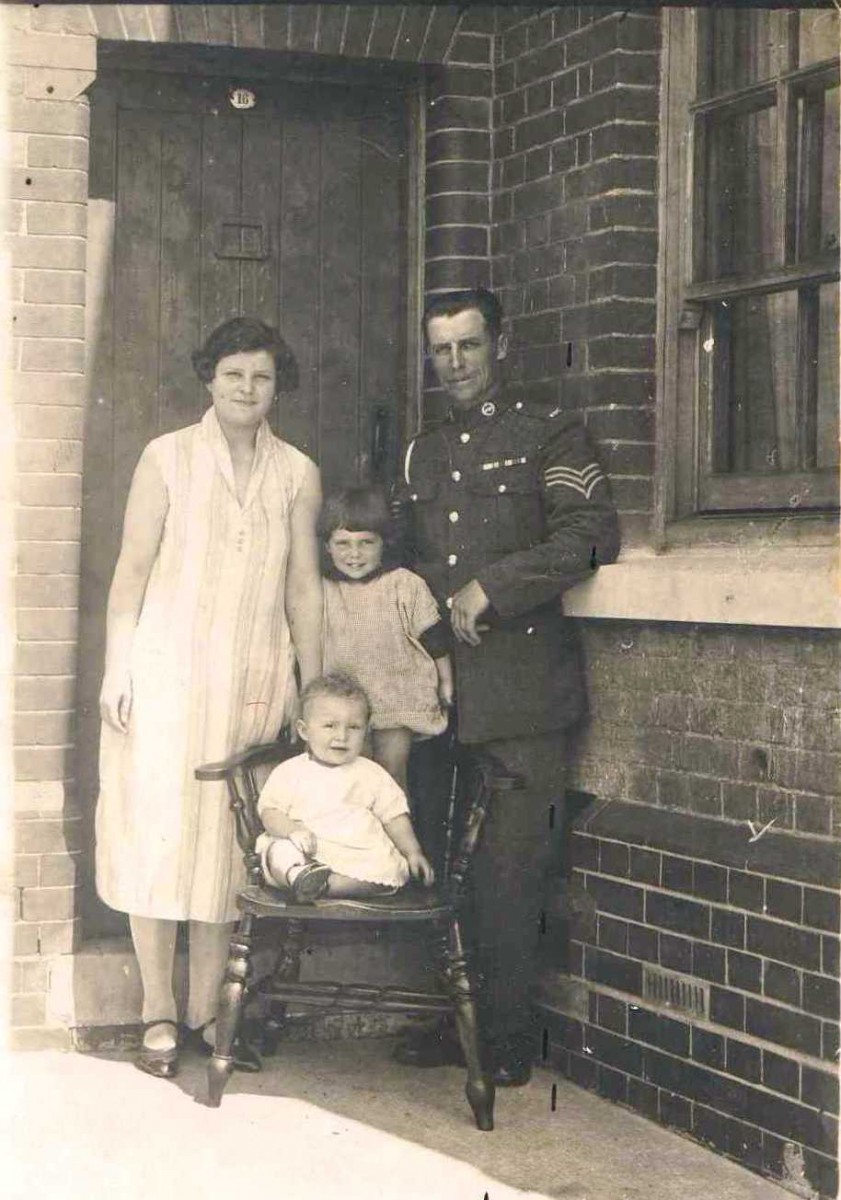 General gets a special mention in the School Log Book on Feb.9th 1903. Albert Foster the schoolmaster usually enters in the Book when he has applied the cane, but there is no mention following this entry:

This incident happened towards the end of his time at Ryburgh School but there is no mention of what he did on leaving. He did go on to become a regular soldier and enlisted before the War. He served with the 2nd Dragoon Guards, Queen's Bays.The 1911 Census places him barracks in Aldershot and he served throughout the War. He was captured at some stage during 1917/18 and held as a P.O.W. as seen in the Ryburgh Parish Magazine in January 1918:
Our sympathy goes out to the anxious relatives of William Doy and General Curson, both of whom are reported "missing"
And again in January 1919
I think we were all, I am sure, delighted to see and welcome A. Comer, G. Howe, General Curson and Ernest Abbs safely return home after their terrible experiences as Prisoners of War. Thank God they are home and considering all, fairly well. We look forward to welcoming the others shortly.
He died on August 10th. 1963 in Liverpool.
***********
Rossie Alexandra Curson married Percy Samuel Skeates (b.Oct 1893 in Paddington).
Birth Jan 1893 in Great Ryburgh.
Death 11 Mar 1923 in Palmerston North, Manawatu-Wanganui, New Zealand.
***********
Napoleon Curson b. Sept 1894 in Great Ryburgh married Dorothy L. Gooch (b.7th July 1899 Ditchingham) in 1922.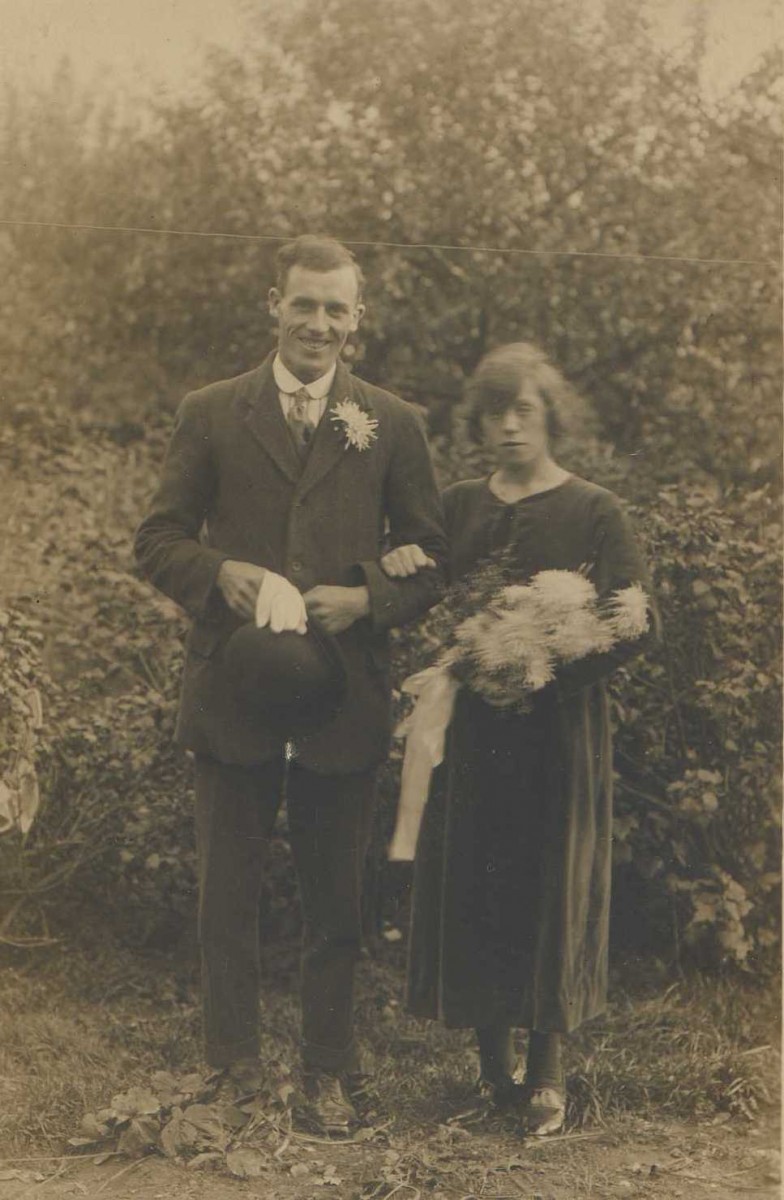 Napoleon was an iron furnace man and worked at the Farmers Foundry. He enlisted on 15th May 1916 and became a Bombardier in the Royal Garrison Artillery. He fought in France from 26th September 1916 until 25th October 1918, having first been hospitalised at the Casualty Clearing Station at Abbeville with broncho-pneumonia as a result of his "exposure whilst serving overseas" and then for a month until 25th Nov 1918 at the Huddersfield War Hospital. He was discharged on 23rd Jan 1919. His war experience would seem to have eventually been fatal as he died after a long illness on 17th. September 1925. This extract comes from the Parish Magazine for October 1925: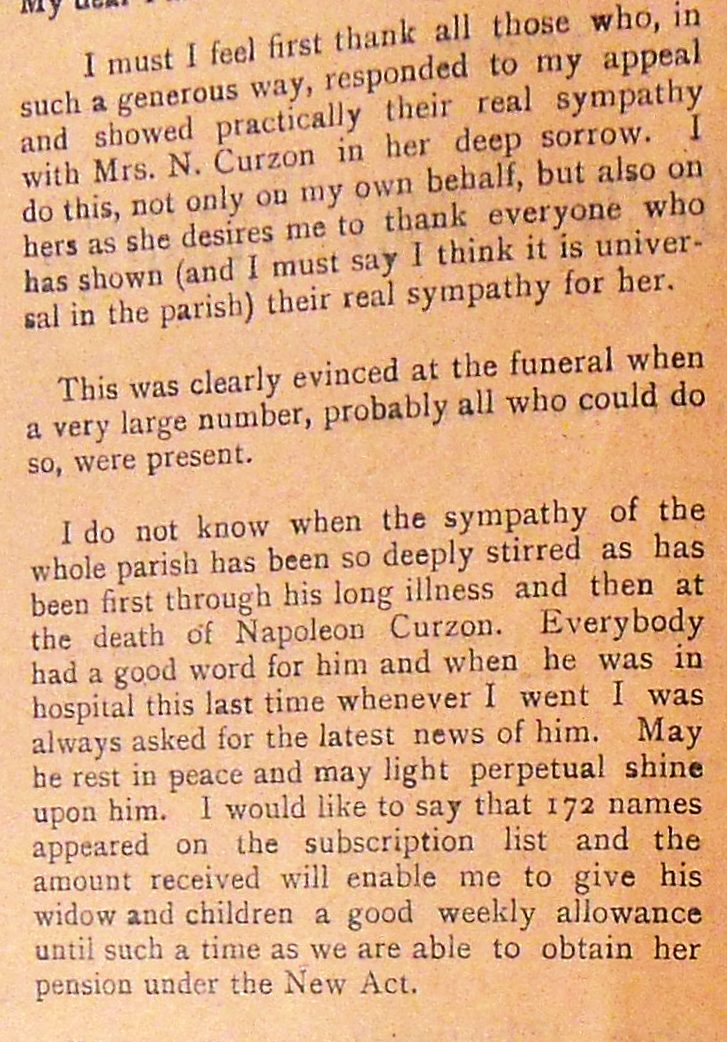 Their third and youngest daughter was born the following year. This photograph of the Ryburgh W.I. taken circa 1927 shows Dorothy seated left and Napoleon's 3 daughters seated in the foreground. Their Grandmother, Sarah Ann marked with an x is standing at the rear: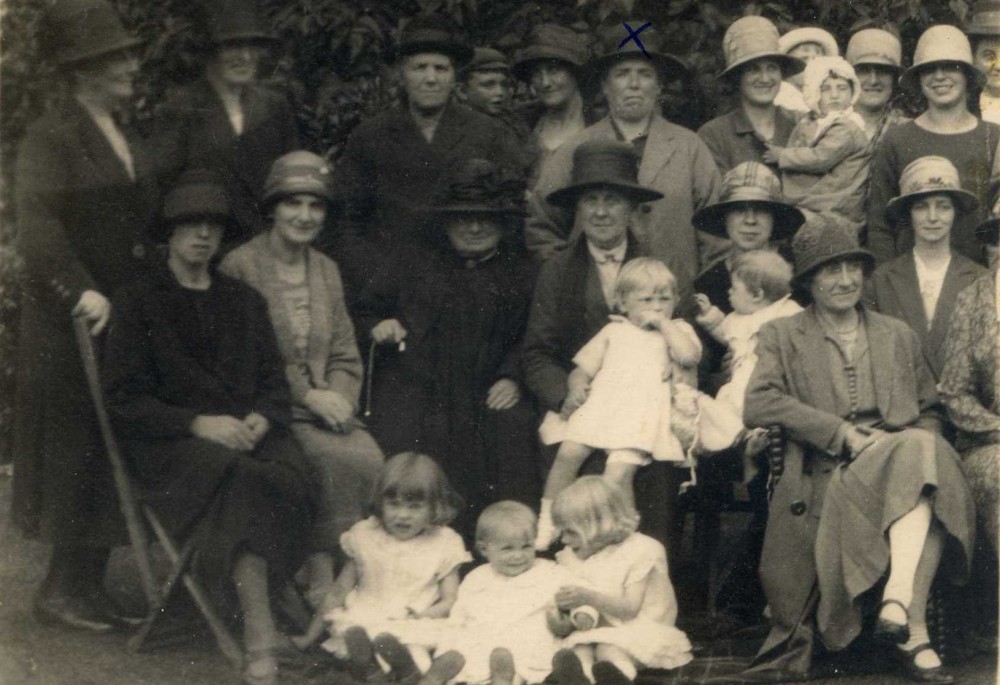 ***********
Doris Josephine Curson b.Apr 1896 in Great Ryburgh married Frank Brogan (b. 1895 Canada).
Frank Brogan married Doris on October 6th 1917 at St Michael and St George's Parish Church Fulwell, Middlesex. At that time Frank was a Private with the 25th Canadian Infantry serving with the B.E.F. in France. Doris was a munitions worker. Her sister Rossie and her future husband Percy Skeats were witnesses at their wedding. There is still further research to carry out from Canadian records
***********
Stanley Curson b. October 1897 d.19th. April 1917 See above.
***********
Eve Adelaide Curson b. Jul 1899 in Great Ryburgh married William John Freshwater (b.10 Nov 1895 Walworth, London).
William John Freshwater (to be further researched)
***********
Ruby Ellaline Curson b. 1900 in Great Ryburgh married Percy Neave M.M (b. Apr 1890 in Little Snoring,)
Ruby died in September 1957 in Islington,
Percy Neave M.M., enlisted with Royal Regiment of Artillery on 19th November 1906 at Yarmouth. He served with the Royal Garrison Artillery as part of the B.E.F. in France throughout the war and was discharged 26th Jan 1919. He re-enlisted the following day and his by then impaired hearing was not seen as grounds for refusal. He served as a driver in Belgium until he was finally discharged in December 1920 and as being physically unfit with a 50% disability pension of £1 a week and with an extra 8/-9d until March 1921. He went on to start the Norfolk firm of Neave's Coaches. His Military Medal was awarded for "Bravery in the Field"
He married Ruby Ellaline either Oct. 31st 1917 at Kingston R(egistry) O(ffice) or Teddington Nov.1st 1917 (both dates appear in the Service record) Their daughter Doreen Rosamund was born on Nov. 11th. Ruby's mother Sarah Ann was one of the witnesses at the wedding
The latest developments and some detective work.
The 3 photographs below have been sent to us by Dawn Goodings, whose 104 year old mother, Ruby Pennell is pictured above. She is the niece of Stanley Curson. The photos were in a box that belongs to Ruby. The photograph of the two soldiers with their mother is unquestionably of General and Napoleon Curson who were Stanley's older brothers. They are from left to right: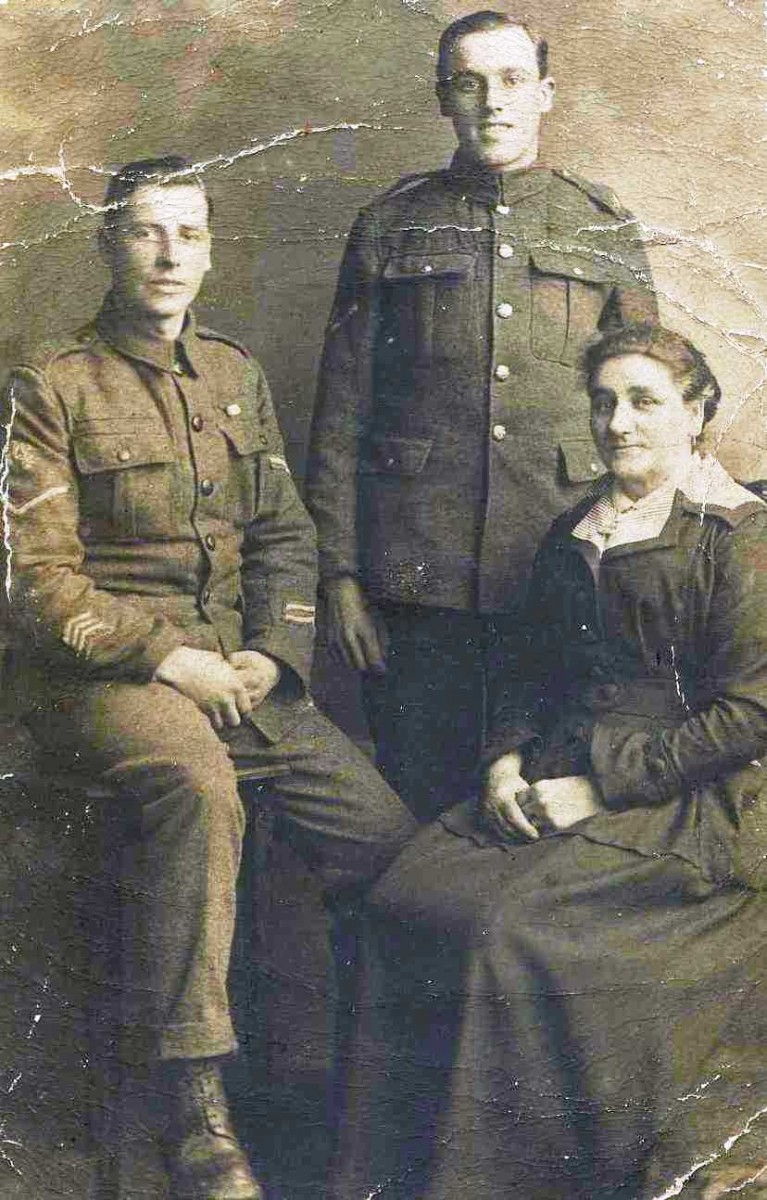 General Curson , a regular soldier from 2nd Dragoon Guards
Napoleon Curson, who worked as a furnace-man at the Farmers' Foundry before he enlisted in the Royal Garrison Artillery
Sarah Ann Curson their mother (born Wilkerson)
This photograph depicts an un-named young Norfolk Regiment soldier: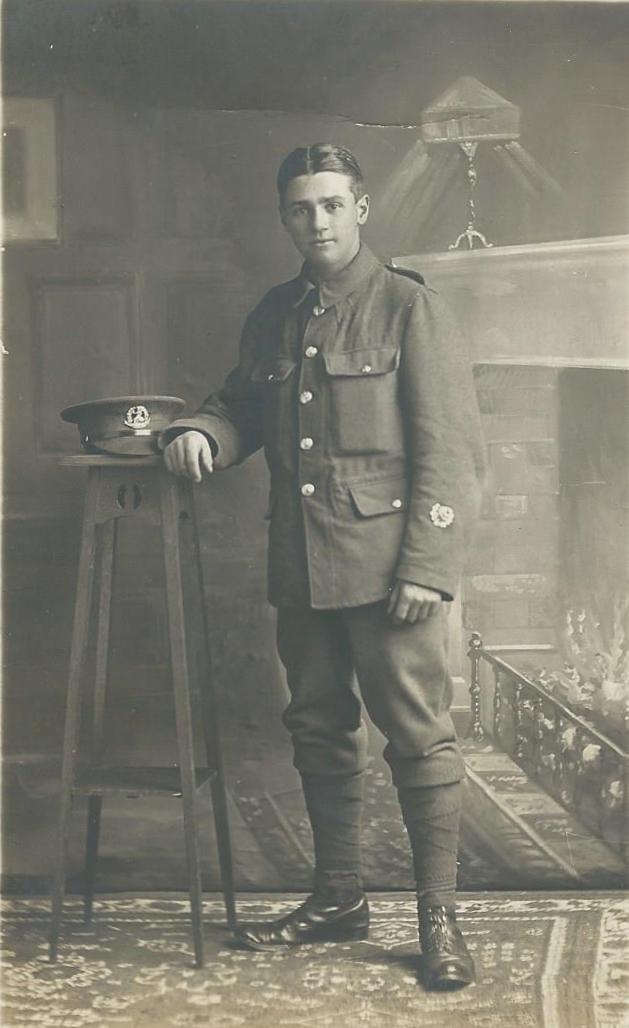 The other photo is of three new recruits, wearing what is thought to be the temporary uniform issued to "Kitchener's Army" recruits due to a shortage of the real thing! This photo also gives no names and dates.
Questions to consider are: Whether there is any similarity between any of the subjects on Ruby's photos? Are there any other facts about the circumstances of known Ryburgh soldiers?
Circumstantially Stanley could well be the young man in the studio portrait.
It was found amongst Curson family photographs
Stanley enlisted aged 19 and looks the right age
The Cap Badge is certainly Norfolk Regiment.
Looking at all the known Curson family soldiers:
Brother: General is Dragoon Guards
Brother: Napoleon is Royal Garrison Artillery
Brother-in-law: Arthur Pennell is Royal Garrison Artillery
Brother-in-law: Percy Neave is Royal Field Artillery
Brother-in-law: Percy Skeats is London Regiment
Brother-in-law: Frank Brogan is 25th Canadian Infantry
The military service of William Freshwater or Herbert Chandler two further Brothers-in-law have yet to be investigated but it is unlikely that either of them would have been with the Norfolk Regiment.
His cousin Frederick on the Ryburgh Roll of Honour was with the Army Service Corps
The condition of the photo is excellent and has been kept safe for an important reason.
The battered photo of his brothers and mother shows a different sort of keepsake.
A further photograph from 1905 depicts another of Ryburgh's war dead, Charles Thomas Steward……..although he is named as being on the photo, he isn't identified individually.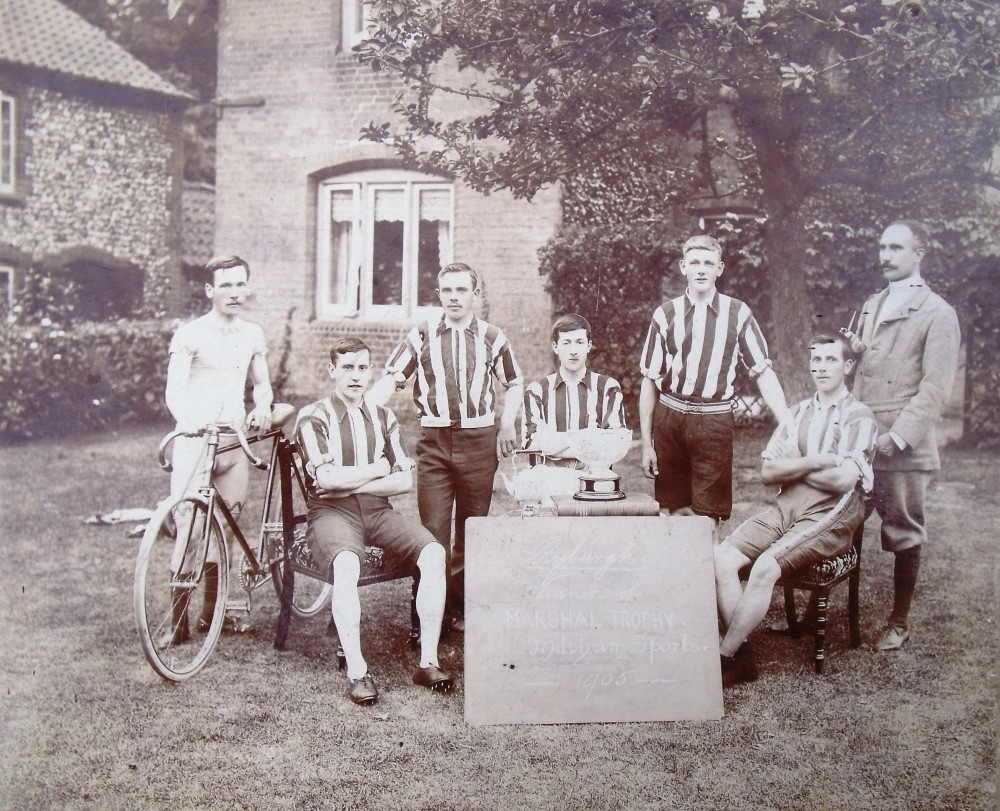 Visually he is a possible candidate for the man with the moustache on the back row. The man is older and Charles Steward would have been 31/ 32 when he joined the Norfolk Regiment in Norwich just 7 days after Stanley. Like Stanley, Charles went to the Middle East and died 5 months after Stanley in September 1917.
The photo below shows a comparison to test the hypothesis that Stanley is the young man depicted in both the photos and that another could be Charles Thomas Steward?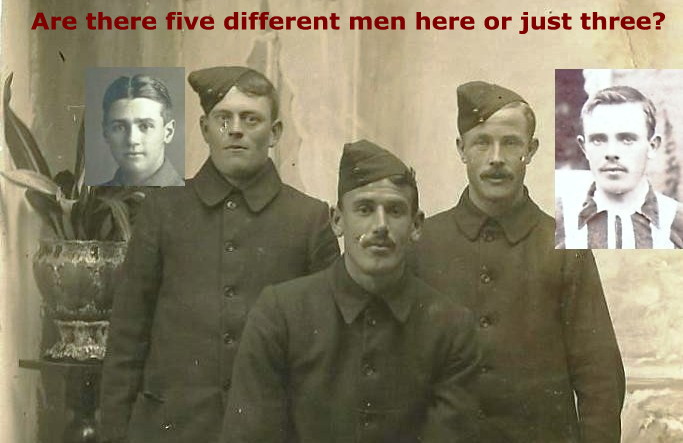 That the 3 are all Ryburgh men who joined up, on or around the same day in November 1915? There is as yet no evidence for the identity of the 3rd man in the foreground.
That these 3 pals are pictured trying to look soldierly in their ill fitting blue sack uniforms when first issued?
That a picture of Stanley sent to his mother was taken after a few weeks of training with some of his real basic uniform and perhaps looking not quite so confident after his recent experiences of army life and which has been kept anonymously in a box of family photos with a direct link to Stanley's mother?
Can you add any further evidence either way?
P.S. April 19th. 2017
On the day of the commemorative peal Dawn and Richard Goodings came to St Andrew's and with them they brought a small peice of family history to add to the Ryburgh Archive. It consists of a narrow glass cylinder 15mms diameter, 3mm thick and 240mm long, containing John Curson's name and date of birth in ink on what looks like parchment dcorated with coloured silks. The ends are sealed with cork although one end has been opened at some point and resealed. There is a very great temptation to open it again to see if it contains anything more but this has been resisted! Have a good look at the photos below and if anyone can shed any further light on the nature of this curious artefact we'd be very pleased to know of it.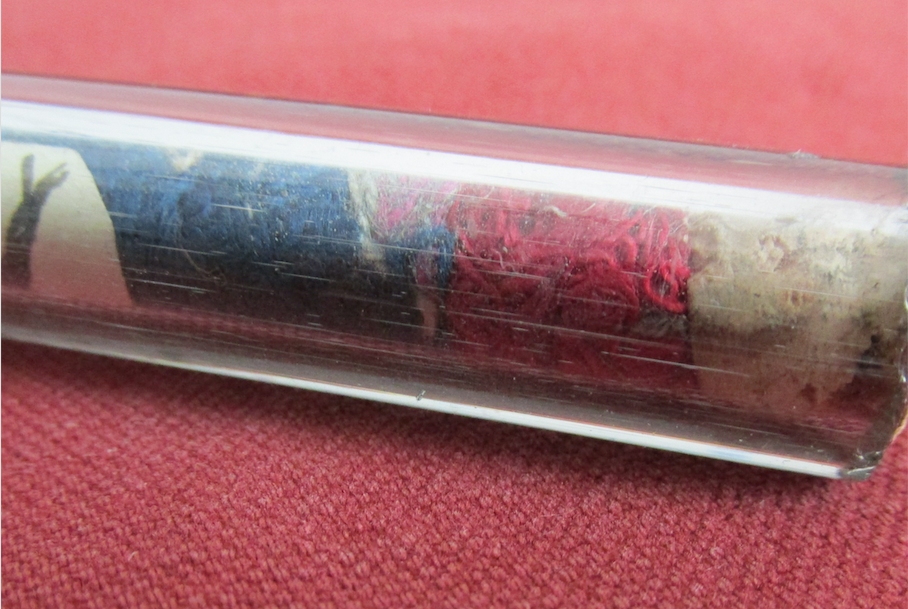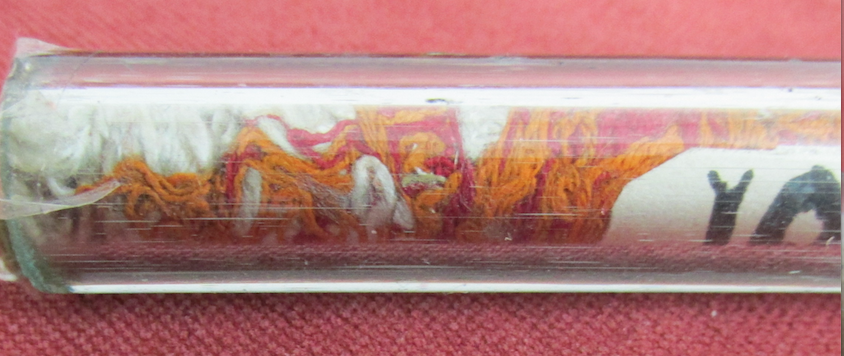 copyright 2015