Ryburgh Remembers
Pte. 3/10195 Bertie John Doy
7th Btn. Norfolk Regiment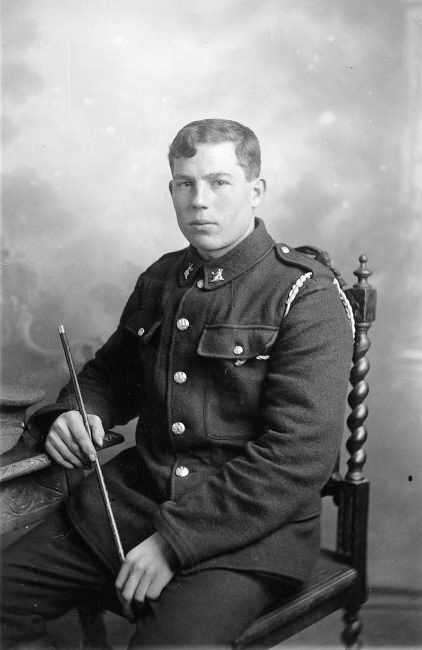 5th September 1895 - 28th October 1916
Bertie John Doy was born in Gateley on 5th September 1895. His parents were Charlotte Doy and Alfred Christmas Doy. His father came from Gateley and Charlotte née Dawson was born in Brisley.
Bertie attended Brisley School from 9th November 1904 until 20th December 1907. He had previously attended school in Gt. Ryburgh as according to the 1901 Census, his father was employed on the farm at Testerton and they were living at No 3 the "New Cottages". On leaving school, he worked on local farms with dairy cattle and on his enlistment papers he was described as a Team man. In 1911 he was working on the farm of Mr & Mrs Charles Green in Brisley.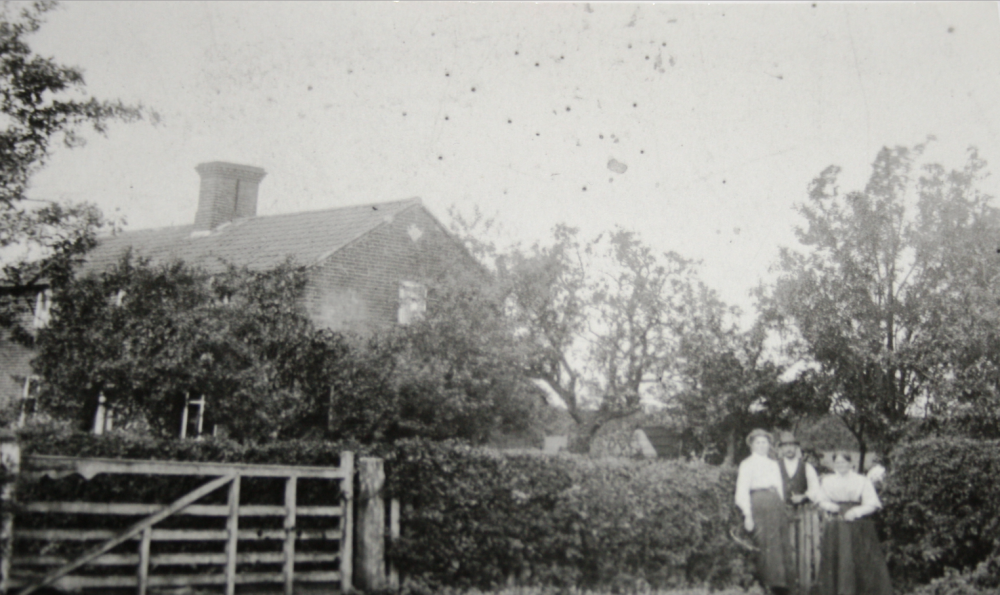 Ethel & Mathew Howling with Ellen Howling (nee Hunt) Outside Green Farm Brisley where Bertie worked.
Alfred Christmas died in 1906. leaving widow Charlotte and 8 children:
Albert b.1893
Bertie John b. 1895 - 1916
Herbert b.1897
William Henry b.1899 -1979
Elsie Elizabeth b. 902 (married Charles Chastney in 1920)
Evan Adrian M b.1903 -1925 (married Constance D Andrews)
Alfreda Mary b.1904 (married Reginald Rush, son of Frederick and Susannah Rush landlords the of the Boar in 1920)
Percy Donald b.1905 - 1963? (married Violet Parke 1931)
********
Nineteen year old Bertie John Doy joined up with the 7th Battalion Norfolk Regiment, on 7th September 1914. On enlistment he was measured as 5ft 6in tall, weight 136 lbs with blue eyes and brown hair.
He began his home service and training immediately, for 357 days before being sent to join the British Expeditionary Force in France on 30th August 1915. He remained there until 3rd May 1916, though not entirely uneventfully.
On 8th January 1916 he had sustained a severe sprain to his ankle. The report of the injury states that it occurred whilst marching in the trenches. His senior officer comments: "He was injured whilst in the trench but was not in any way to blame.'
Bertie was returned to England after contracting diphtheria and was sent home to convalesce on 4th May 1916. He returned to active service in France on 15th July 1916 and was attached to the 7th Btn .Suffolk Regiment on July 21st 1916
His Casualty Form-Active Service records
"GSW Testicle 13.10.16 CCS" followed by, "5 Gen Hospl Scrotum & L thigh" (The Red Cross No 5 General Hospital Wimereux) (15.10.1916)
On 23rd October 1916 he was sent back "to England" on board "H. S. Western Australia" for further medical treatment at the Lord Derby War Hospital at Warrington.
On 26th October 1916 a "Free Railway Warrant" was sent to Bertie's mother so she could visit him in hospital in Warrington. The official memorandum, signed by the Registrar, an RAMC Major, says that he was "considered seriously ill'" The Medical History Form B178 says that our unfortunate soldier "Became non-effective by Death"
"1) GSW Scrotum & Buttock"
"2 Tetanus"
Bertie was just 21 years of age when he died at 8.45a.m. on 28th October 1916. He is buried in St. Bartholomew's Churchyard, Brisley, where his mother was living at the time. Army form A.27 under the section "Period after which Interment may take place" records: "Thursday Nov 2/16. Brisly Norfolk"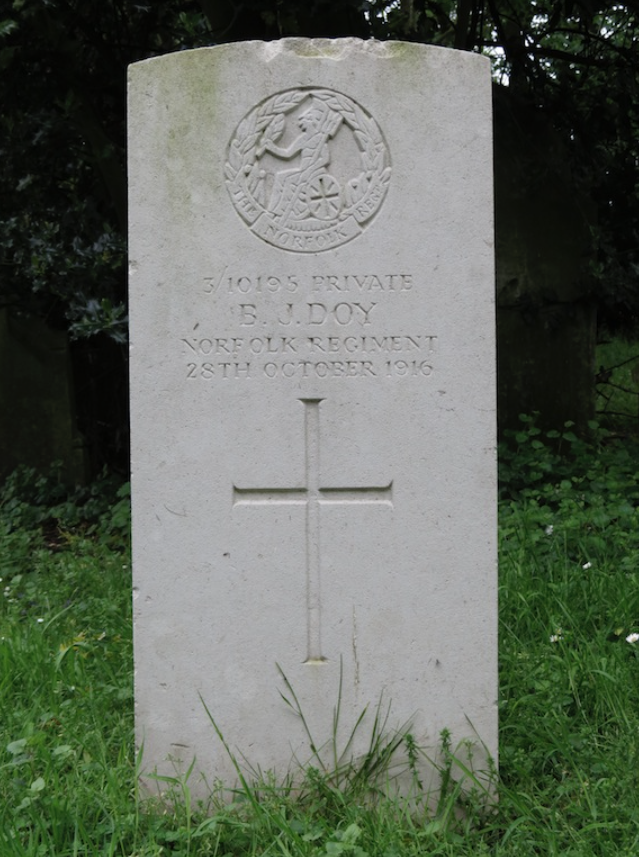 Bertie John Doy's Headstone in the
South West corner of St. Bartholomew's Churchyard, Brisley.
Bertie's mother as his sole legatee was sent his back pay of £5.13.8d and later in February 1920, his war gratuity of £9
At his death, his mother was still a widow having brought up her eight children single-handedly after husband, Alfred Christmas died. Documents in the Service Record after 1918 now address Charlotte as Mrs. Hall, living at The Marine Tavern, Gt. Ryburgh. Army Form W5080 verified by Revd. F.H.Tatham in 1919 lists Bertie's seven siblings who were then aged from 11 years to 26 years. 3 siblings were living in Gt. Ryburgh. Brother, Herbert, was on active service. The two girls would appear to be in service or at least in the care of families in Colkirk. Bertie's 3 medals were issued to his mother in 1920.
In 1911 Living at the Marine tavern were 55 year old William Hall married to Elizabeth (53) and who was working at the Farmers Foundry opposite as a mechanical fitter. Though from the North Walsham area they had been resident in the village for over twenty years with William employed at the Foundry. In 1909 William took on the licence of the Marine Tavern from John Coates. Elizabeth died in 1914 and it was in 1918 William remarried widow Charlotte Doy. William tragically took his own life in 1919 and the license passed to the now twice-widowed Charlotte. She was the last licencee of the Marine Tavern which finally called "last orders" in 1930. The postcard below dated 1908 is believed to be of John Coates the previous tenants to the Halls at Marine Tavern. With thanks to the Norfolk Pubs website:
It is fortunate that we know from the available War Diaries the location where he suffered his fatal wound. It was certainly with the 35th Infantry Brigade in the Arras region. If he was still attached to the 7th Suffolks or back with the 7th Norfolks the location was the same, as the Norfolks were to relieve the Suffolks on the night of Oct. 13/14. The 7th Suffolks had been at the front line in "BULLS RUN near FLERS" since the 10th October when they in turn had relieved the 11th Middlesex Regt. Frustratingly, there is no entry in the diary between 11th and 14th October!
copyright 2017
This page has been made possible by the researches of,
and kindly made available by Mary Carden of Brisley