Panels on the South side of the "Think and Thank Screen"
by
an unidentified artist from Walsingham Church Shop 1927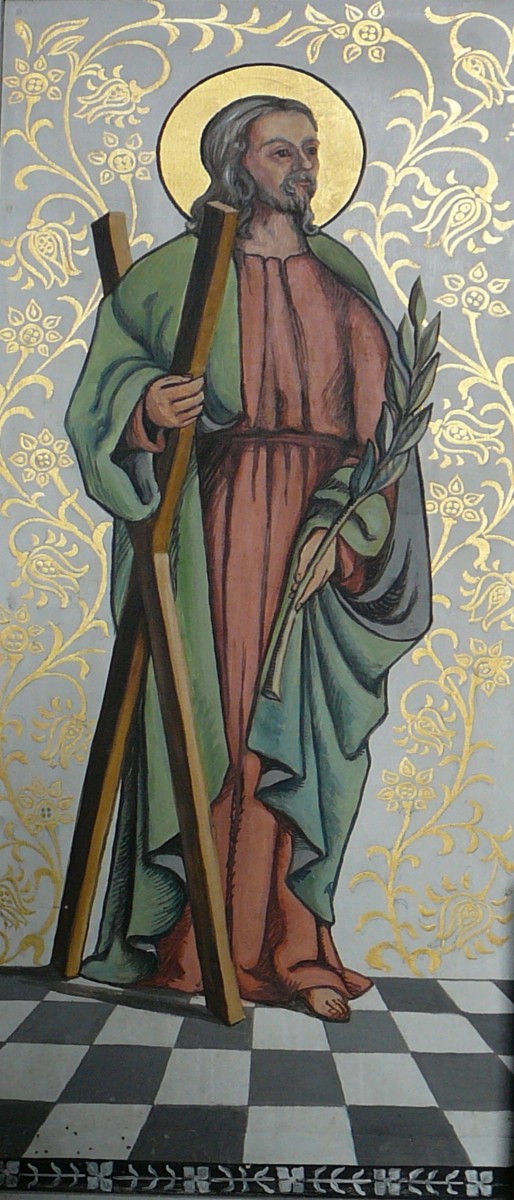 Andrew.
ST. ANDREW (1st century) Feast Day: 30th November
"And Jesus, walking by the sea of Galilee, saw two brethren, Simon called Peter, and Andrew his brother, casting a net into the sea: for they were fishers.
And he saith unto them, Follow me, and I will make you fishers of men.
And they straightway left their nets, and followed him." Matthew 4.18-20
He was crucified by the Romans on an X-shaped cross at Patras in Greece. Centuries later, his remains were moved to Constantinople and then, in the 13th century, to Amalfi in southern Italy where they are kept to this day.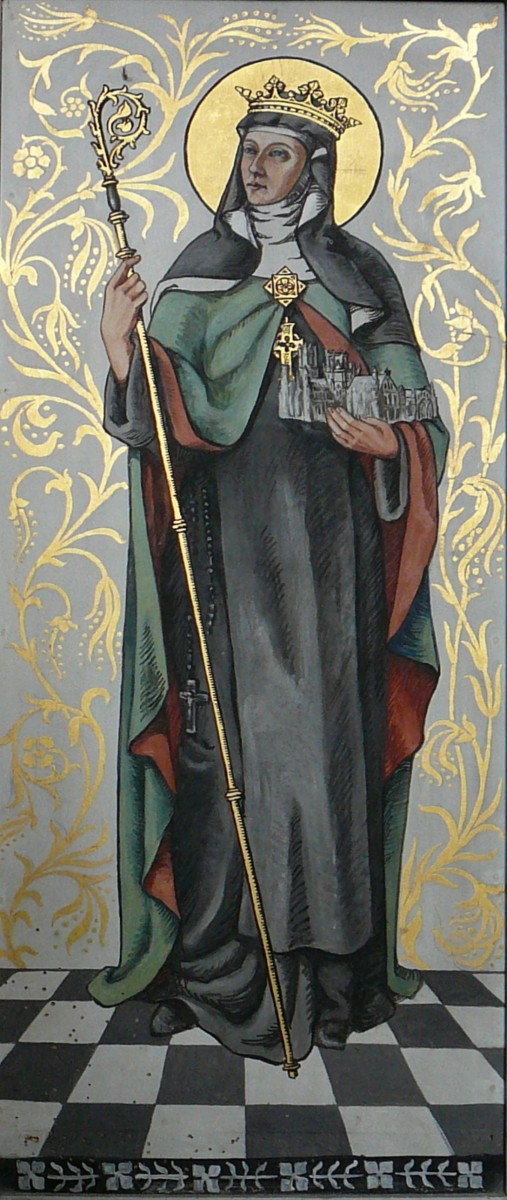 Etheldreda.
ST. ETHELDREDA (636-679) Feast Day: 17th October
She was one of the four daughters of King Anna of East Anglia, all of whom retired from secular life. In 673 she founded a double monastery at Ely, now the site of the cathedral. Bede wrote:
"From the time of her entering the monastery, she would never wear any linen but only woollen garments, and would seldom wash in a hot bath, unless just before the greater festivals. She seldom ate more than once a day, excepting on the greater festivals. Always, except when grievous sickness prevented her, from the time of matins till day-break, she continued in the church at prayer."
Felix.
ST. FELIX ( ? -647) Feast Day: 8th March
St. Felix is widely known as the bishop who introduced Christianity to the kingdom of East Anglia. Almost all that is known about him originates from "The Ecclesiastical History of the English People", completed by Bede in about 731, and the "Anglo-Saxon Chronicle". Bede describes how the exertions of King Sigeberht of East Anglia "were nobly promoted by Bishop Felix, who, coming to Honorius, the archbishop, from the parts of Burgundy, where he had been born and, ordained, and having told him what he desired, was sent by him to preach the Word of life to the aforesaid nation of the Angles". Bede praised Felix for delivering "all the province of East Anglia from long-standing unrighteousness and unhappiness".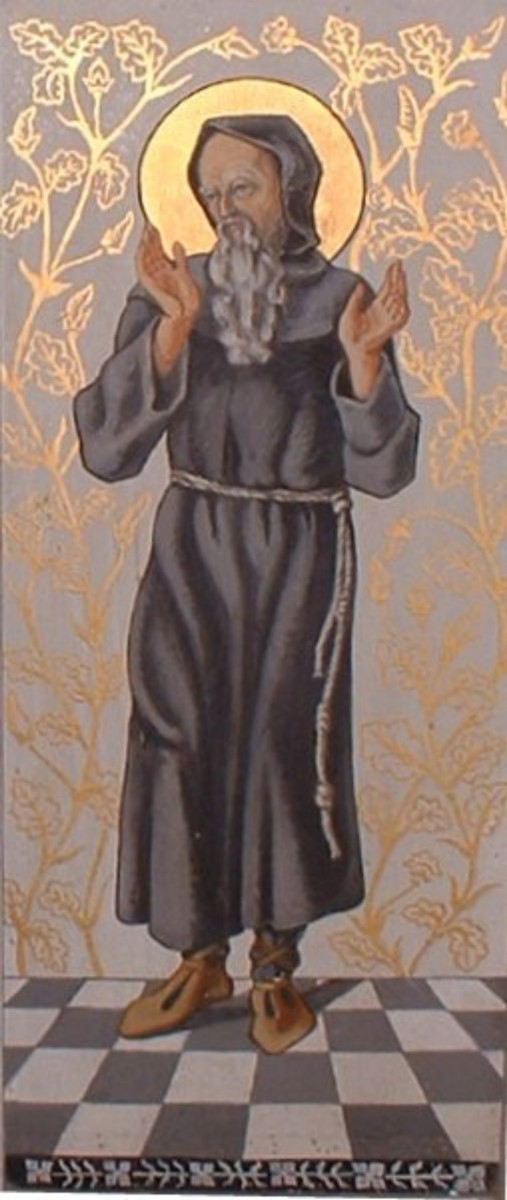 Guthlac.
ST. GUTHLAC (673–714) Feast Day: 11th April
St. Felix wrote about Guthlac who went to live as a hermit on the island of Crowland (north of Peterborough):
"Now there was in the said island a mound built of clods of earth and in this Guthlac began to dwell, after building a hut over it. From the time when he first inhabited this hermitage this was his unalterable rule of life: namely to wear neither wool nor linen garments nor any other sort of soft material, but he spent the whole of his solitary life wearing garments made of skins. So great indeed was the abstinence of his daily life that from the time when he began to inhabit the desert he ate no food of any kind except that after sunset he took a scrap of barley bread and a small cup of muddy water."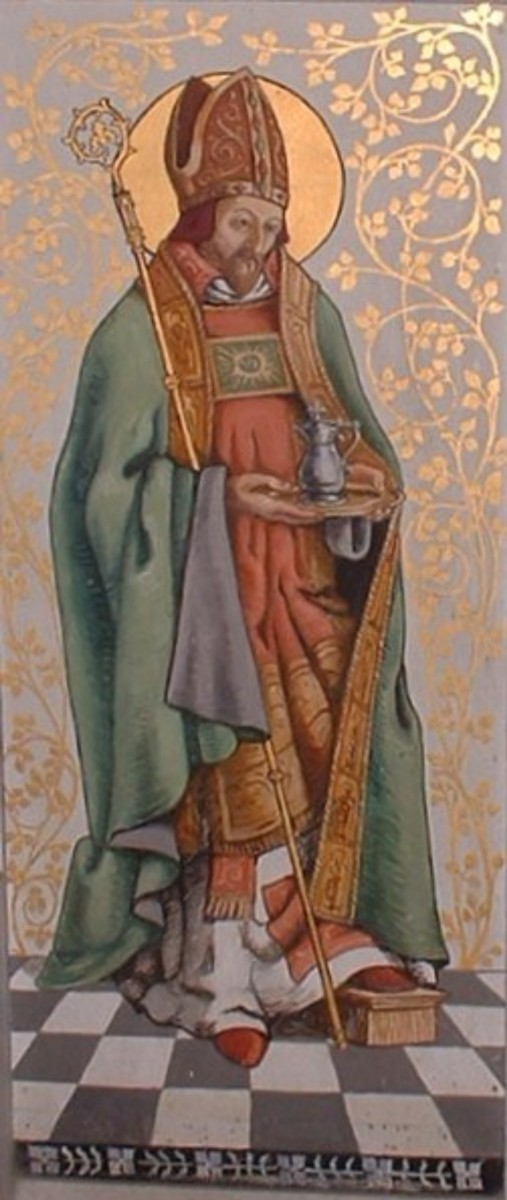 Remigius.
ST. REMIGIUS (c1035 – 1092)
St. Remigius was a monk at Fécamp Abbey in Normandy before travelling to England as a supporter of William the Conqueror. Some accounts state that he was present at the Battle of Hastings. Remigius was the first Norman to be appointed to an ecclesiastical post in England after the Norman Conquest and became Bishop of Dorchester. He took a leading part in the creation of the Domesday Book and later began the construction of Lincoln Cathedral where he was buried. The ruined church at Testerton is dedicated to St. Remigius.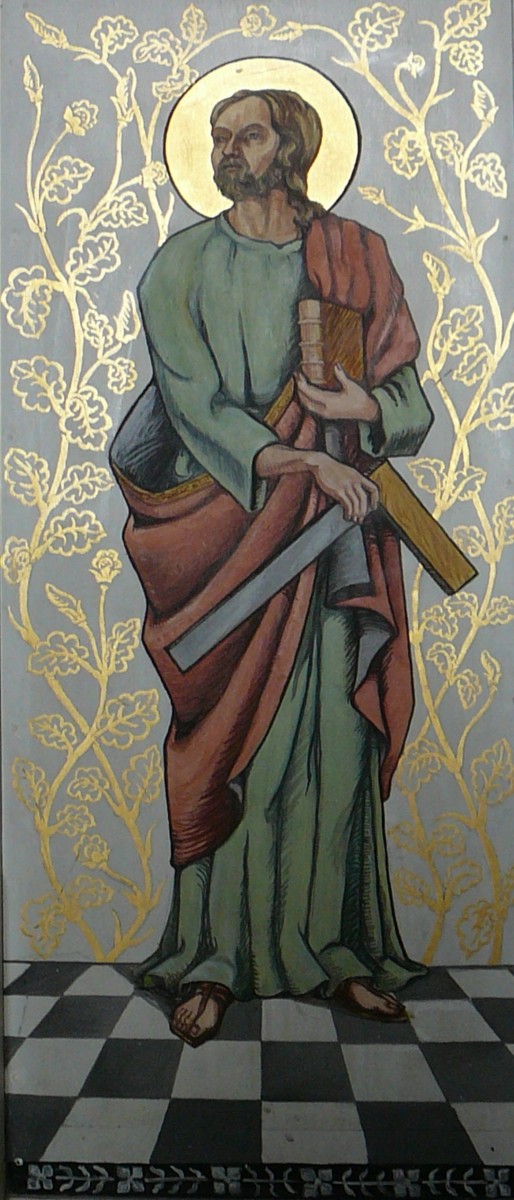 Thomas.
ST. THOMAS (1st century) Feast Day: 21st December
" But Thomas, one of the twelve, was not with them when Jesus came. The other disciples therefore said unto him, We have seen the Lord. But he said unto them, Except I shall see in his hands the print of the nails, and put my finger into the print of the nails, and thrust my hand into his side, I will not believe. And after eight days again his disciples were within, and Thomas with them: [then] came Jesus, the doors being shut, and stood in the midst, and said, Peace [be] unto you. Then saith he to Thomas, Reach hither thy finger, and behold my hands; and reach hither thy hand, and thrust [it] into my side: and be not faithless, but believing. And Thomas answered and said unto him, My Lord and my God. Jesus saith unto him, Thomas, because thou hast seen me, thou hast believed: blessed [are] they that have not seen, and [yet] have believed" John 20.24-9.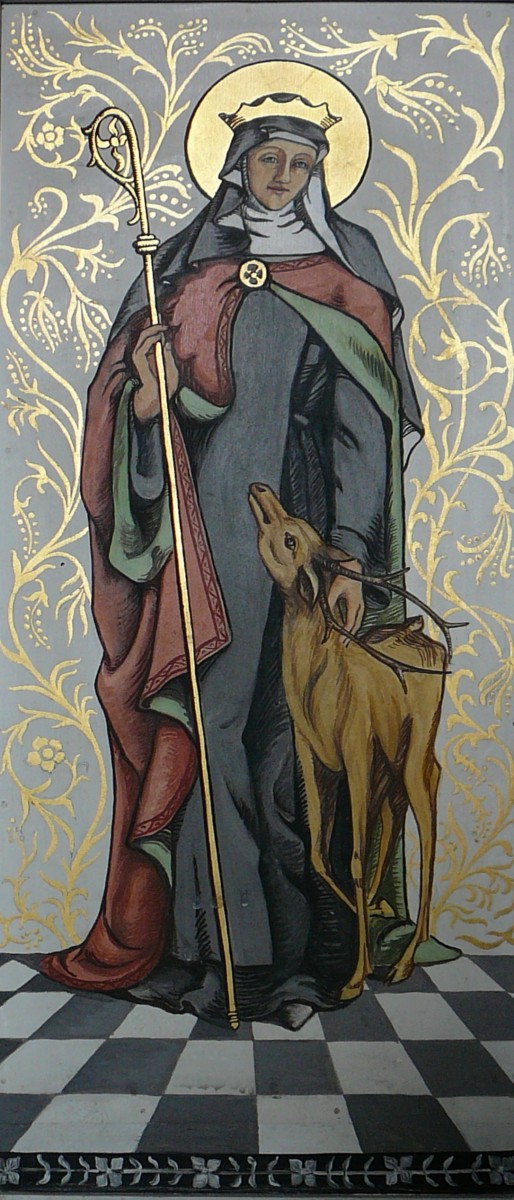 Withburga.
ST. WITHBURGA (?-743) Feast Day: 8th July
Withburga was the youngest daughter of King Anna of East Anglia. As a girl, she lived with her nurse at Holkham. After her father's death in 654, she built a convent at East Dereham. At times food was short and the community went hungry. One night the Virgin Mary appeared to Withburga, saying 'Send two of your women down to the stream every morning, where two does will stand to be milked'. This they did, and after that there was always butter and cheese for all.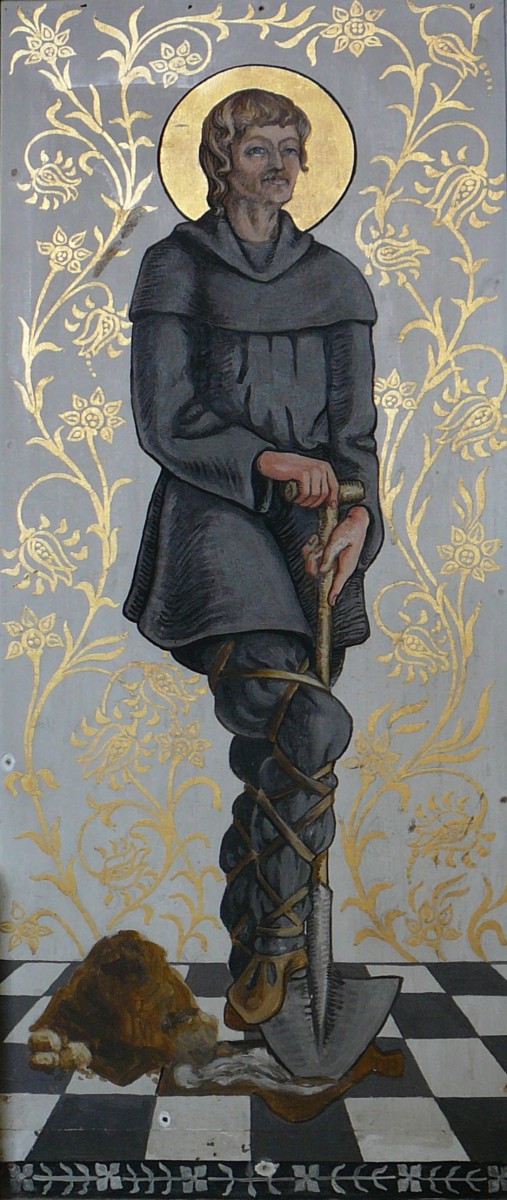 Walstan.
ST. WALSTAN (975 -1016) Feast Day: 30th May
St. Walstan was born into a wealthy East Anglian family with royal connections but he chose to spend his life working as a farm labourer. His reputation for hard work, piety and selfless generosity was legendary. The farmer for whom he worked worried that he never took any payment and insisted he accept a gift of two white oxen. When Walstan died, the oxen were left free to draw the funeral cart unguided. The cortege stopped at Bawburgh near Norwich where Walstan was buried. He is the patron saint of farm workers and agriculture.
copyright Anne Prentis 2014