Ryburgh Remembers
William David Howard
21 February 1899 - 3 December 1923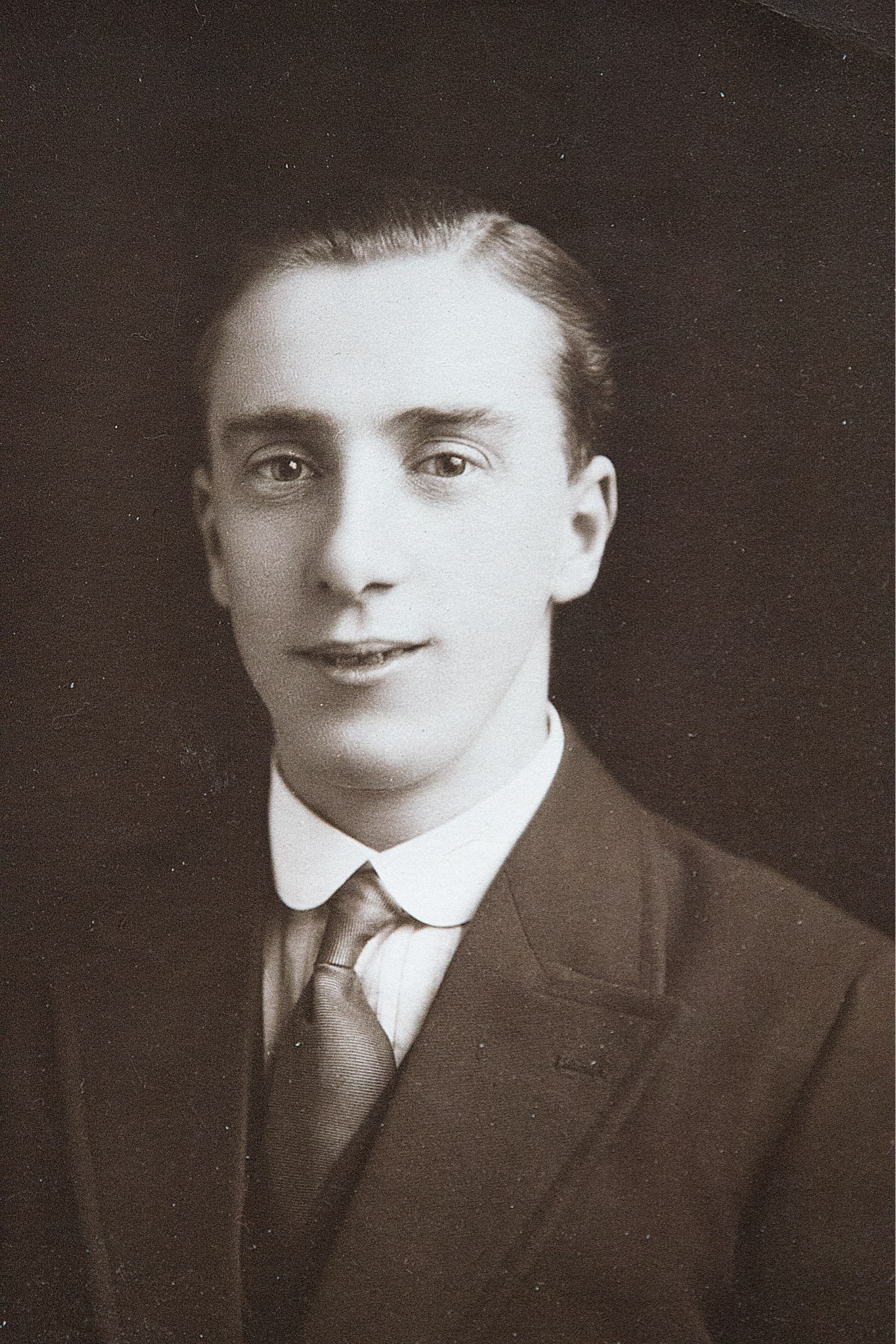 One thing that statisticians are unable to accurately represent is just how many survivors of the Great War were woundedand even less so, how many succumbed to their injuries in the years following the Armistice. William David Howard went to War in 1917. He was brought up in the M&GN Signalman's cottages at Langor Bridge in Little Ryburgh, was severely wounded and died after having suffered the consequences of those wounds for 5 years. Statistics not withstanding, there is absolutely no doubt that he died because of WW1 as must have countless others, and yet there is no place to remember men such as these. In the absence of the knowledge of any other Ryburgh soldiers who died in similar circumstances William David Howard must alone become a part of the revised Roll of Honour of Great & Little Ryburgh and Testerton to represent all the post conflict fallen.
When we first heard of William, initially from an enquiry to these webpages, his younger sister, Ada Miriam, was still alive but she sadly died aged 108 in 2015. This page has been compiled from correspondence with Miriam's daughter and nieces, Jan Jackson, Bridget Boehm and the late Mary Bonaker to whom very many thanks.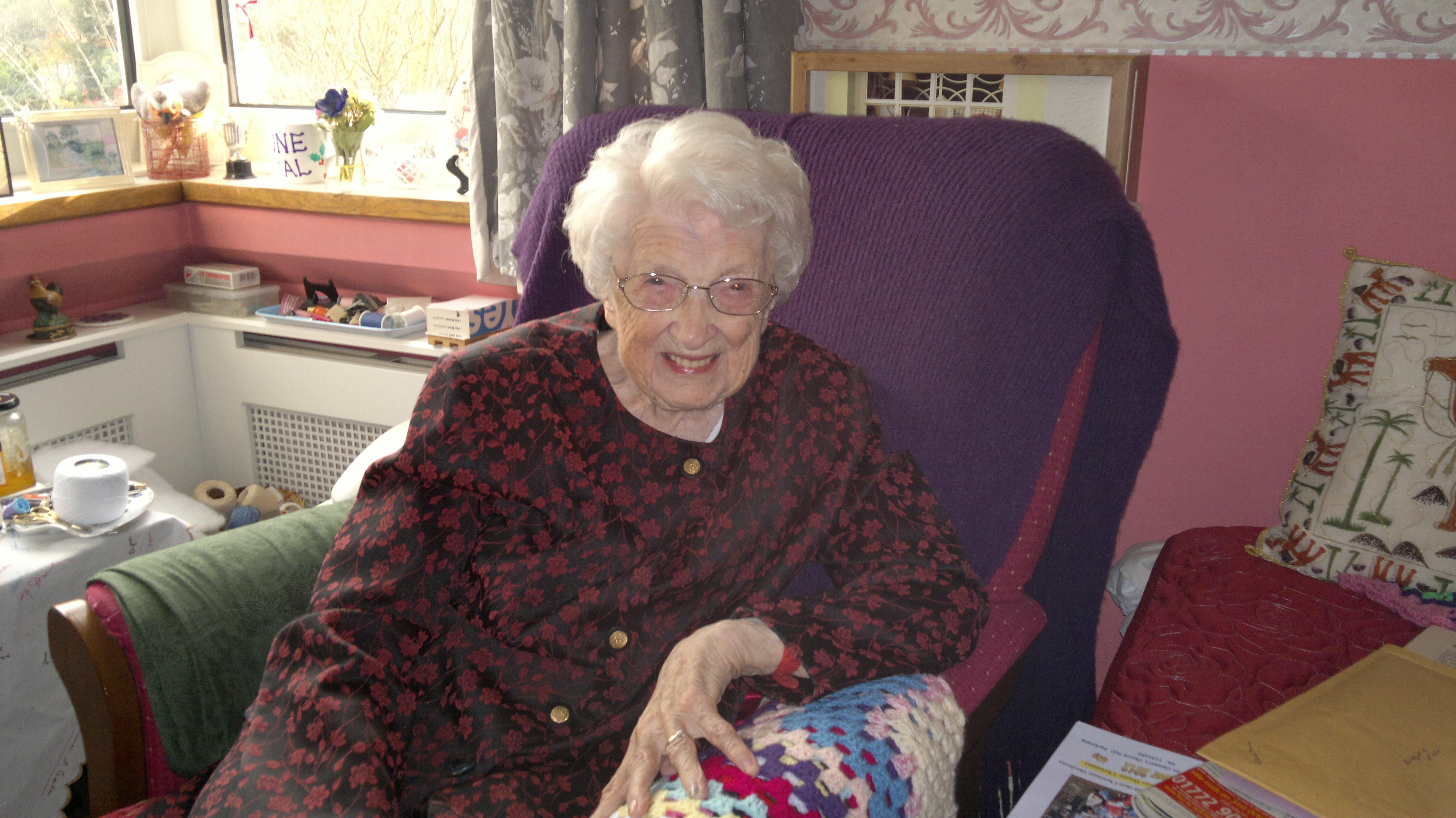 Ada Miriam Howard
The school registers of All Saints' School, Great Ryburgh tell that William David Howard was born on February 21st 1899 and that he was admitted to the school June 3rd 1903. His parents, we learn from Census returns, were William David Howard born in Grimston, Railway Signalman at Langor Bridge (at the time regarded as part of Kettlestone) and Mary Ann ("Polly") Lambert from Foulsham who were married at Grimston on November 10th 1896. The family moved to Langor Bridge around 1897/8 as only their eldest child, Dorothy Constance was born at Grimston. The remaining 5 children, William David, May Elizabeth, George Thomas, Ada Miriam and Leslie Wilfred were all born at Langor Bridge between 1899 and 1910.
In the Norfolk Fair Magazine in 1973 there appeared an article written by Cecil Sumpter, William's junior by 1 year and whose family were next-door-neighbours to the Howards. Cecil's father, Lewis Sumpter shared the signalman's duties with William's father and he supplies us with a brief snapshot of life at Langor Bridge which must show a common experience for the two families at the time.
"Langor Bridge is just within the boundary of Kettlestone which is two miles distant. The Rev. [Archibald] Downes-Shaw a genial and pleasant person was vicar there during my boyhood days and he would occasionally call on us. The feast in the rectory barn and the sports which followed during the coronation of George the fifth and Queen Mary is a happy memory still with me. We were however better acquainted with the Ryburgh's. It was to Great Ryburgh school we trekked day by day leaving home at 8am and returning about 5 o'clock – after dark in winter. Mr A[lbert] Foster was the able schoolmaster, and his staff included Mrs [Rose] Bradley head of the infants, Mr [William James] Holman, who lost his life during the first world war, Miss [Mabel] Eley and Miss L[ena] Smith. Sunday saw us walking to Little Ryburgh Methodist Sunday School – the chapel there has long been demolished and has not been replaced. This journey was usually undertaken three times. The afternoon and evening visits were for the usual type of service. The school superintendent was Mr. William Howard a lovable character and a sincere Christian gentleman. Practically all the children of the village attended school and were keen to maintain regular attendance in order to gain the benefit of the summer treat, and the book prize in the winter."
The reminiscence continues:
"August 26th 1912 was a never to be forgotten day. The floods have from time to time been referred to in 'Norfolk Fair' and Langor Bridge did not escape. During the day the railway was flooded and the down line partially washed away and the train service had to be suspended. I recall some stacked sleepers floating away and an express train from King's Cross to Cromer waited at the signal until later in the day when it had to be pushed back to Fakenham. At home water was rising perilously close to the back door and we carried some furniture from the downstair rooms up to the bedrooms. During the late afternoon the bridge over the 'beck' nearby gave way and the water was thus given a freer passage and the risk of flooding in our home decreased. My father placed a lighted lamp showing a red light within a few yards of the breach and hoped it would provide sufficient warning to any travelers. He also placed the railway gates across the road. Not that many people travelled after dark in those days and on that occasion there were no incidents. I suppose warning messages quickly spread around."
Together with the article text were a number of family photos including the following image showing 3 boys and possibly their fathers (one in railway uniform) posing at the site of the bridge collapse. The boys look the right ages, 10/12/13, to be George Howard, Cecil Sumpter and William Howard respectively. Although there is no definitive evidence that it is them, it shows an occurrence that William must have experienced in his boyhood years in Little Ryburgh.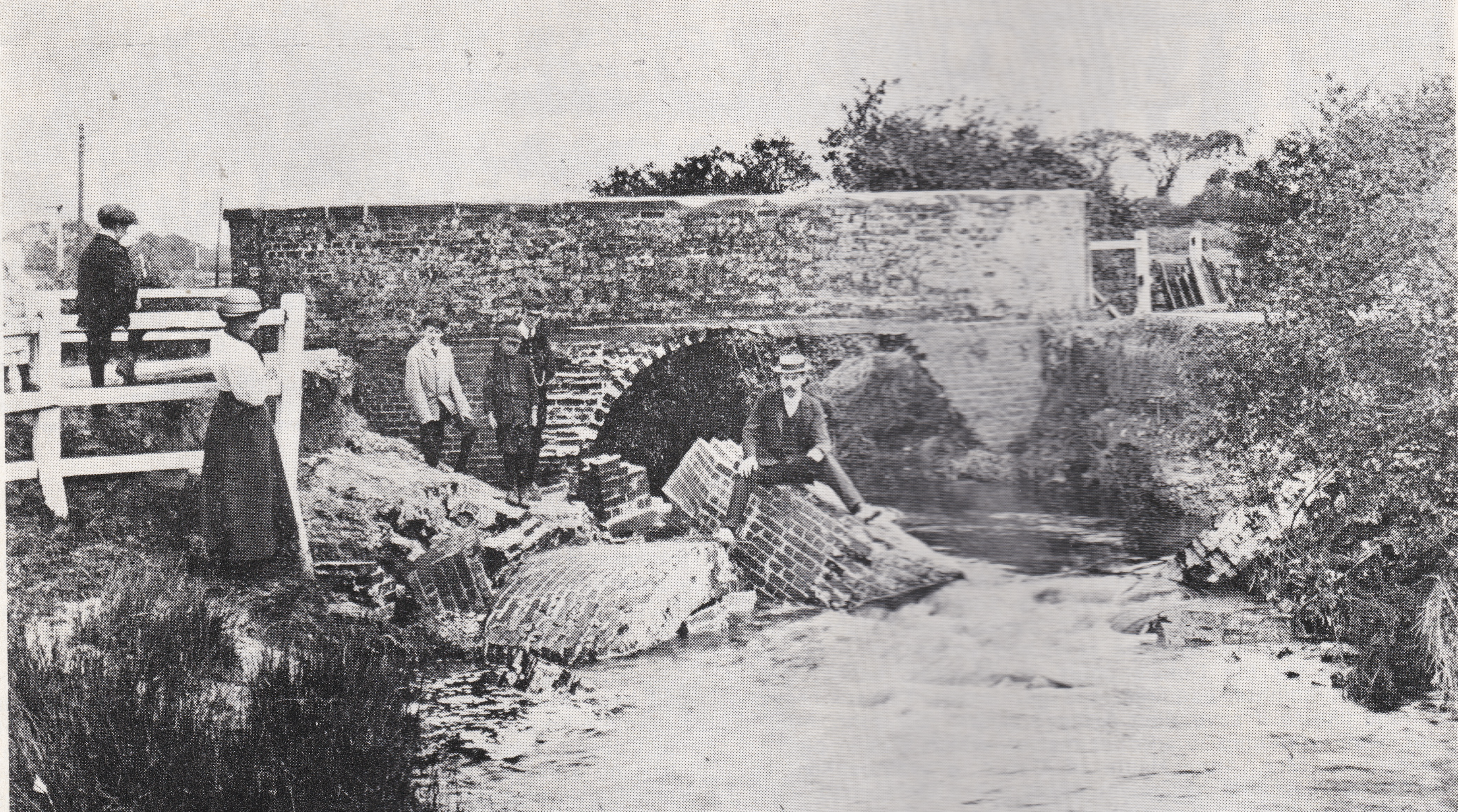 The school register again supplies the information that William left school on February 21st 1913 to be "father's help". This suggests that William Howard Senior might have recently left his employment as a signalman and moved with his family to Fakenham where he ran a business as a "boot and shoe retailer" living in Whitehorse Street as is recorded in the Census return of 1921.
However it has not been possible to pin down an exact date for the move. William's sister Miriam remembers that she lived next door to the Sumpters and that her brother received his call up papers and went off to war when she was about 10 years old. She clearly remembered him walking off with her brother, George and Cecil Sumpter but she didn't know his regiment or ID number.
Nevertheless we can find this information from the military archives where it says that he enlisted January 23rd 1917 and was discharged on Dec 3rd 1918. His full service record seems not to have survived but from the Roll of Individuals entitled to the (Silver) War Badge, his discharge is made under K[ings] R[egulations] 392 (xvi) meaning:

Without his full record we can not know the circumstances or extent of his injuries. However regarding this Miriam recalls:
He was badly wounded and was sent initially back to Scotland. Her mother 'Polly' was very relieved when he finally came back nearer to the family home as she couldn't visit him there with so many in the family to look after. William never really recovered spending the next 5 years in and out of hospital until his death. She believes he did have some medals but his death was a blow to the family and their father, a staunch Methodist, refused to have anything regarding the war spoken about.
His medal index card shows 2 service numbers as Private 51270 Suffolk Regiment and also 44335 Essex Regiment which was his final placing.
In addition to the War Badge he also received the British War and Victory medals and is listed as having served at home and overseas.
His pension record card gives the date of his death and a note in red ink "File destroyed March 1931." This would appear to be all that can be gleaned from his surviving military record.
The 1921 Census finds William in Hospital in Norwich with the address given as "The Lodge Bowthorpe Road". Whether this was part of the Workhouse Infirmary or the Isolation Hospital in Bowthorpe Rd., I have not so far been able to ascertain. His occupation is given there as "Boot Shop Salesman" employed by his father in Bridge Street Fakenham.
William died in the sitting room over the shop run by his father. His sister May, a trained nurse had returned home to care for him and was with him when he died. Miriam recalled that she could never go into that room afterwards.
He was buried in the Queens Road cemetery in Fakenham and his grave is distinguished by a heart-shaped headstone: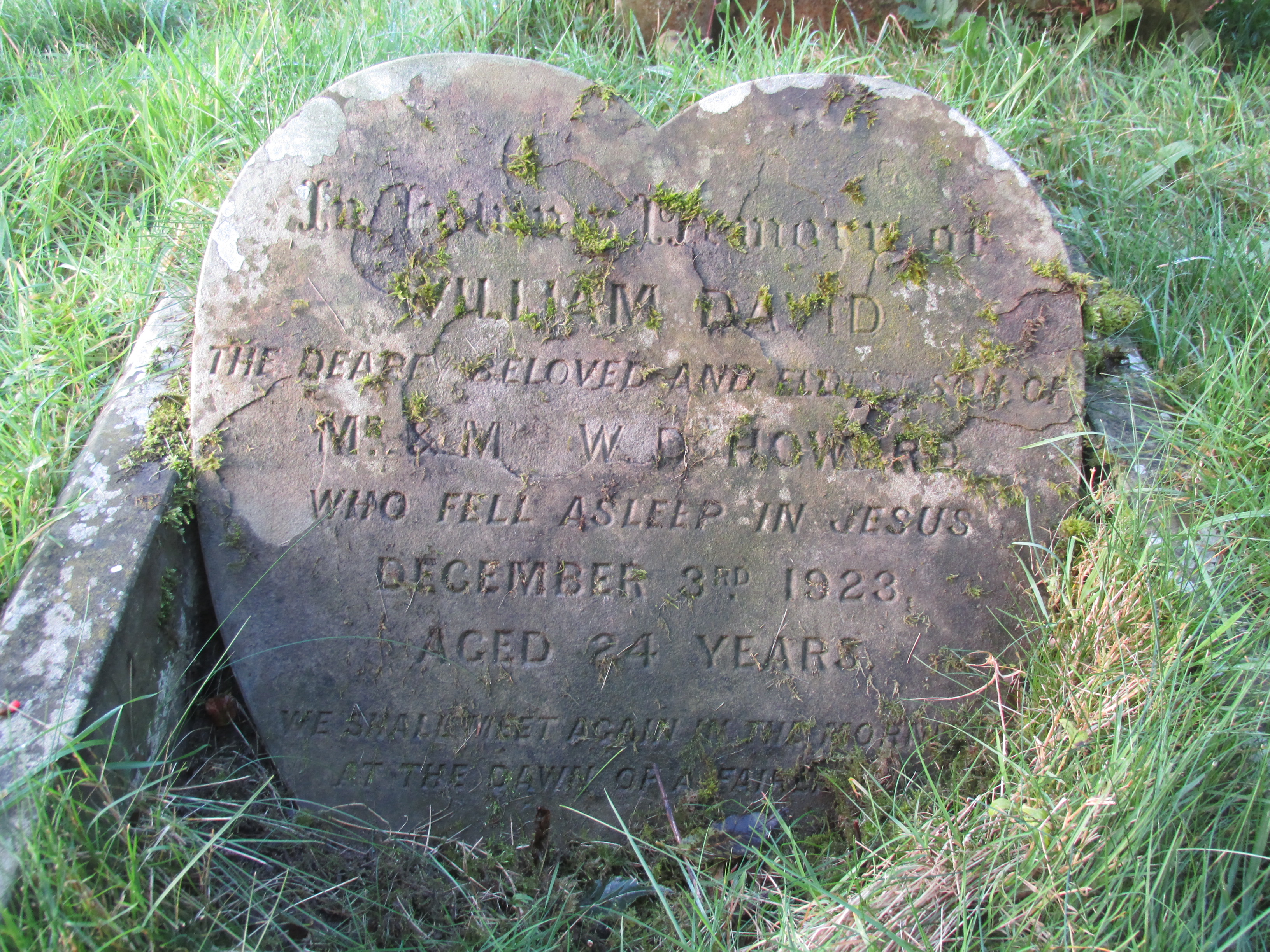 copyright November 2023