The Ryburgh Angels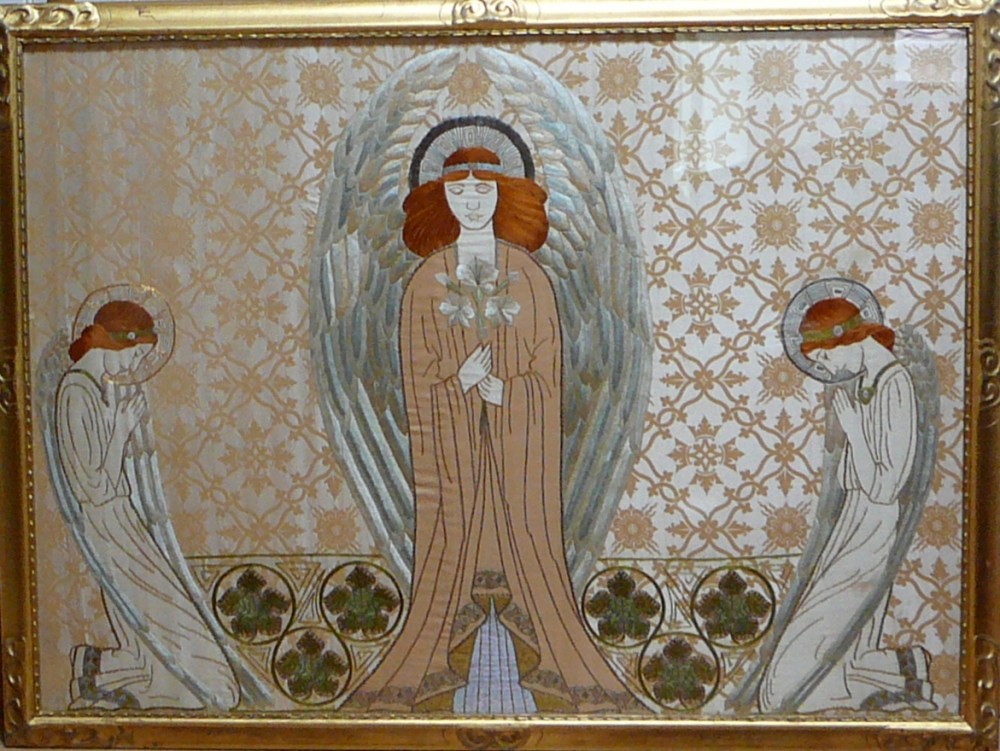 Before the recent re-tiling of the nave and South transept began, the "angel's picture" in the frame that hung on Mr Comper's gallery had to be removed for safety. It wasn't until it was down on ground level that you could see that it was in fact an embroidery and what is more, of a super quality. Woodworm had been rather active in the frame and backing panel and it went off post haste to Mike Chappel at Toftrees to put it to rights. He did a really good job and gave it a "conservator's clean" before re-assembling with a new backing panel with the labels carefully transferred from the original.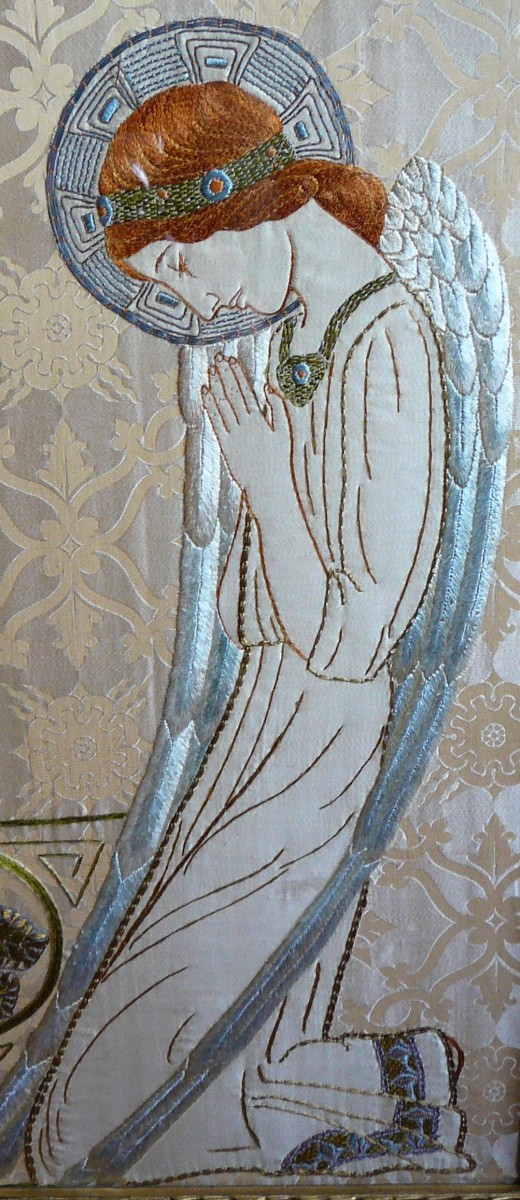 The Right Angel
The Comper drawing showed that it wasn't part of the original intent of the Gallery (although Wimborne has a coat of arms in the same central position) nor was it thought to be a Comper design. The label on the reverse says quite simply Mabel Braithwaite. Royal Salford School of Art 1912. At least as well as looking right for the period, this dating actually confirmed it as being contemporary with the Gallery and the Comper restoration.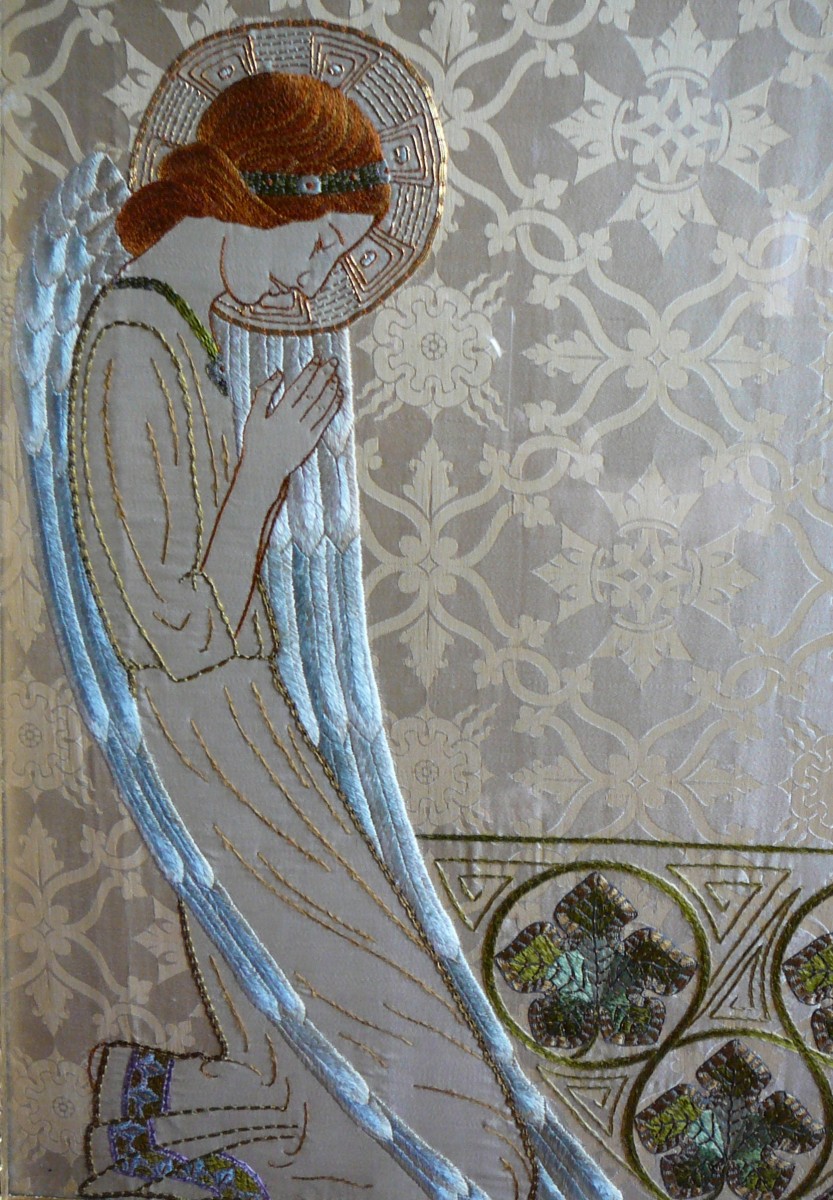 The Left Angel
When trying to read the letters of Betha Tatham (Revd. Hugh Tatham's mother) in the Comper Archive there a reference to a name that looked like Miss Braithwaite in conjunction with Miss Lucy Bucknall. This was at the time Betha was working on the altar frontal for Ryburgh in 1912. Lucy had been trained in needlework by the Sister's of Bethany who were the main workshop for the embroidering of Comper's designs. Surely there must have been some connection between all these people for this lovely piece of embroidery to be on the gallery? It was extremely frustrating when researches failed to find a trace of Mabel Braithwaite. However as so often happens, the right person, in this case long time Ryburgh resident, Mrs. Jo Thompson was able to fill in some more of the story: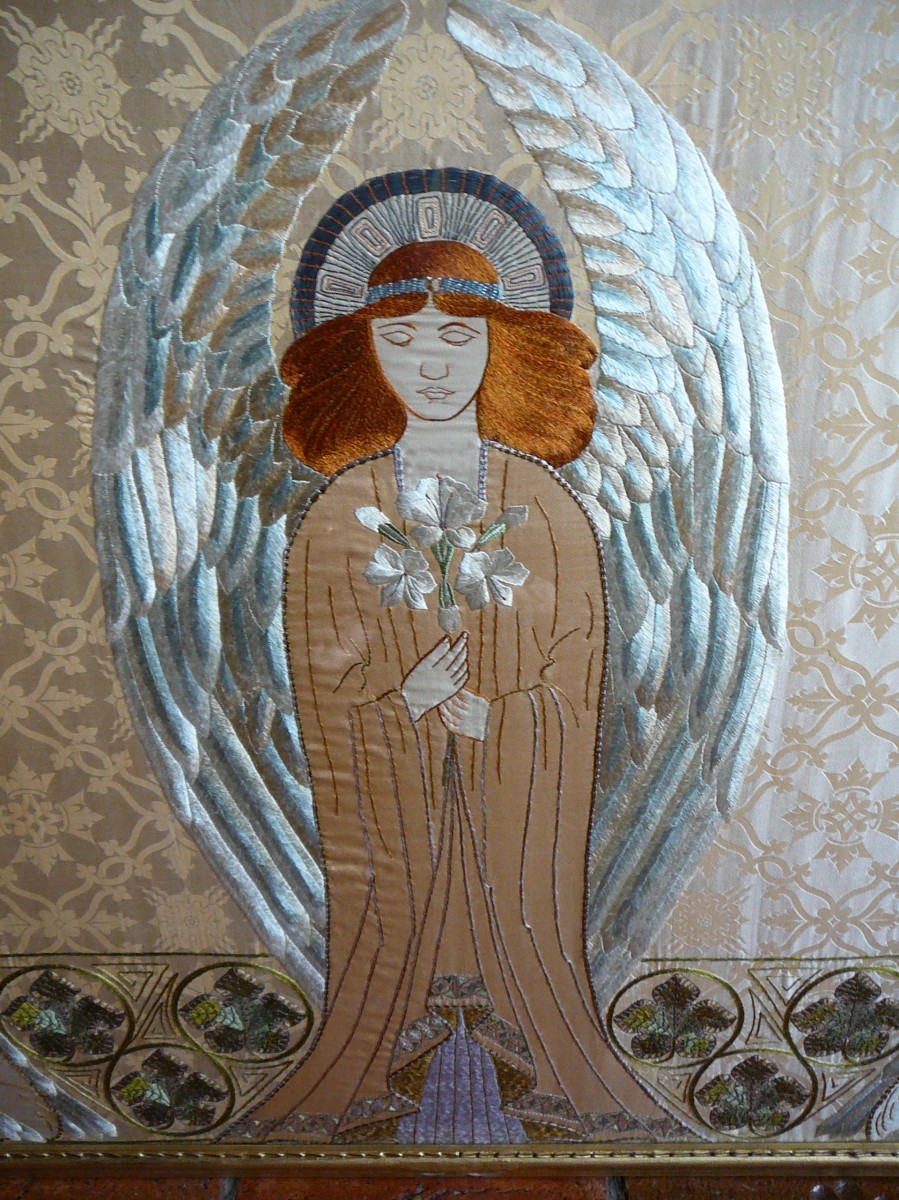 The Middle Angel
(The eyes are not her strong point but the plumage is stunning)
Jo actually gave the embroidery to the church in the 1970's when her husband Brian was churchwarden and it is only then it was first hung on the gallery. It had come to her from her Aunt who had been housekeeper to Mabel (nee Braithwaite) and Tom Barlow. Jo thinks they had lived in the Salford area all their lives, and was not aware that there was ever any connection with Mabel and Ryburgh, and indeed there may very well not be. So the plot thickens, though none of this detracts from the fine piece of craftwork that it is.
It has been re-hung out of the light in the North transept but where it can be more easily seen and appreciated now the building works are completed.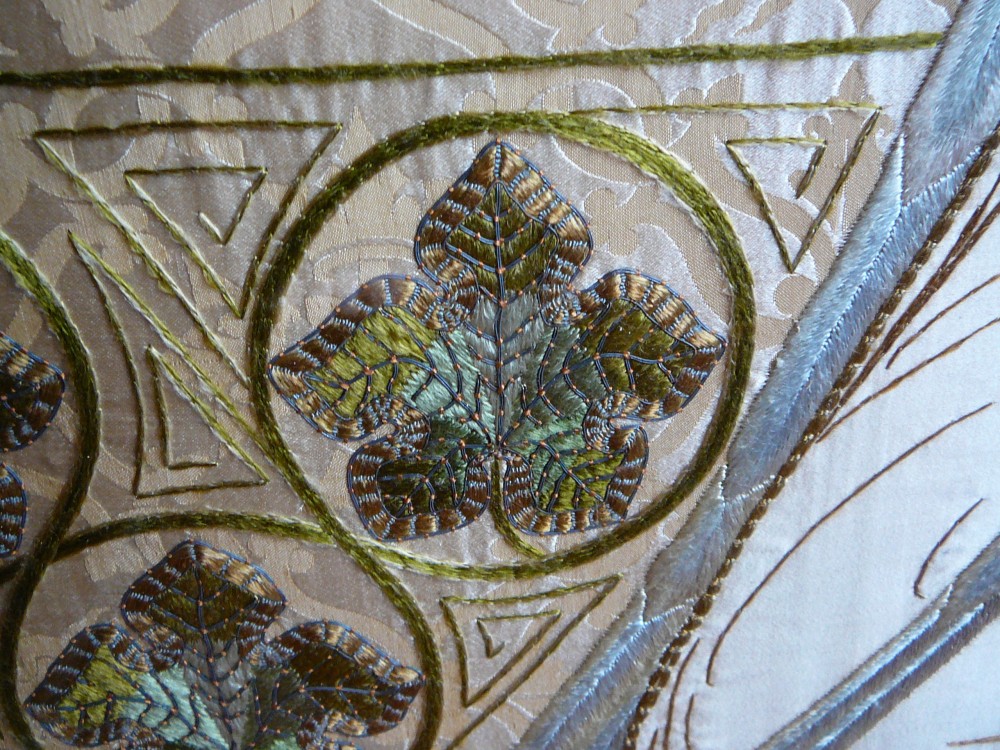 copyright 2014