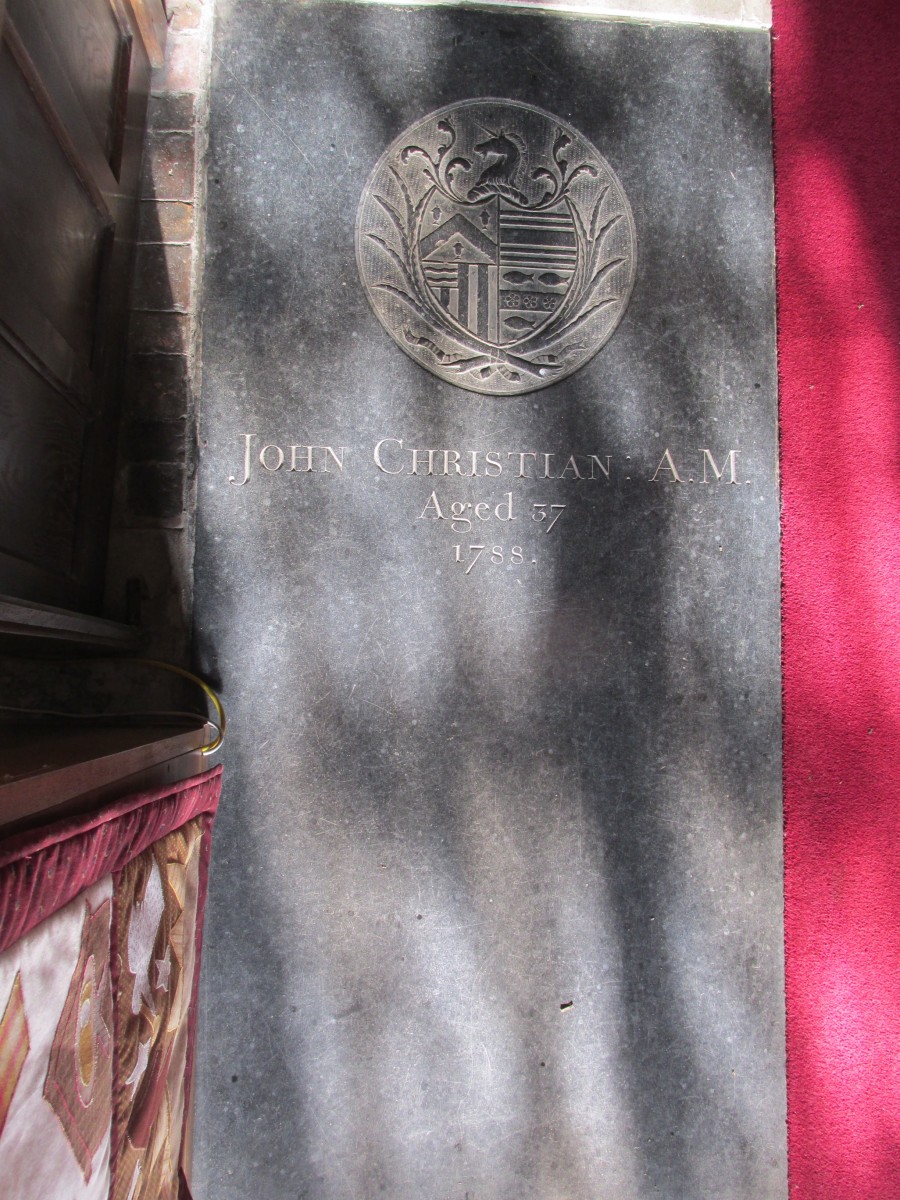 This simple but impressive slate ledger stone is to be found in the Chancel in St
Andrew's. As this a place usually reserved for aristocracy and clergy and I was about
to research its occupant, I thought it would be quite easy to trace him. He was not a
former Rector since he died during the long tenure of the Rev. Charles Mordaunt and
at that stage couldn't even assume he was a clergyman.......and of course there was
the prominent coat of arms above the name. This armourial is described in Edmund
Farrer's book of 1887, "Church Heraldry of Norfolk" Describing the slab in the South
transept, it can only have arrived in the Chancel when Hugh Tatham altered all the floor
levels.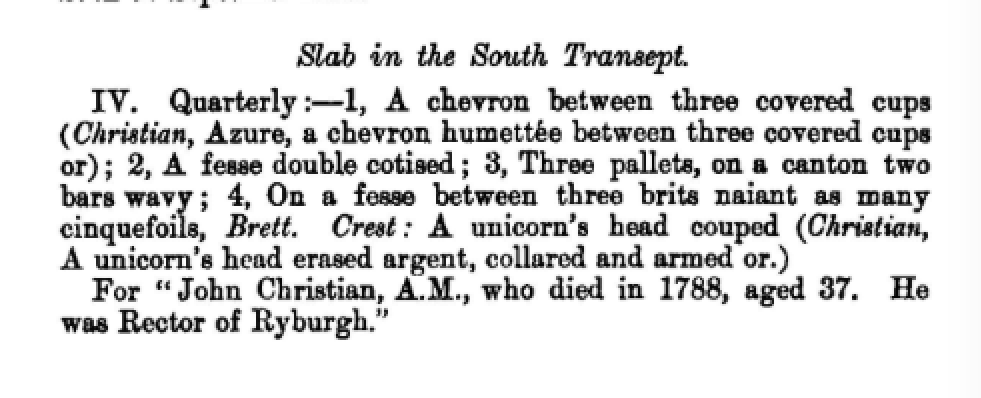 It was therefore quite a disappointment when I was unable to locate his name, either in
the Burial Register or the Archdeacon's transcripts of St Andrew's Parish Records.
I am a great enthusiast for the British Newspaper Archiveand I had recently
encountered the name in a Ryburgh search but didn't at first make the connection
between what was a short but interesting reference and the ledger stone. As it
happened, there were two related reports, the first from Saturday 9th. August 1788 in
the Northampton Mercury:

and again on Thursday 21st. August in the Bath Chronicle and Weekly Gazette:

Though not exactly local papers, I could find nothing closer to home but they did
provide more information and places to search.
The first port of call now was to look for a Rev. John Christian amongst the Alumni of
St Peter's College (better known as Peterhouse today) and that search gave a lot
more information
Christian, John. (baptised Suffolk 27th Dec 1750) (? this date has yet to be
verified)
Admitted a pensioner (a student paying fees to the college for teaching, board and
lodging) aged 18 on June 5th. 1769. at PETERHOUSE.
The 2nd. son of the Rev. Humphrey Christian, Vicar of Docking in Norfolk and
Elizabeth Brett his wife (of Scarning). Born 1751, at Botesdale, Suffolk.
Scholar, 1769;
Matriculated Michaelmas. 1770;
B.A. 1773;
Fellow, 1775;
M.A. (styled A.M.) 1776.
It also says that he was Rector of Knapton, Norfolk, 1781-8 and that he married Mary,
the daughter of Thomas Machin, surgeon, of Pakefield, Suffolk on 5th. June, 1781. He
died sine.prole.(without children) in 1788 and it confirms that he was buried at
Ryburgh. His younger brother Edward also attended Peterhouse and became a Clerk
in Holy Orders. This information is confirmed by the Norfolk Chronicle for June 9th
1781:

What was the Rector of Knapton doing in Ryburgh?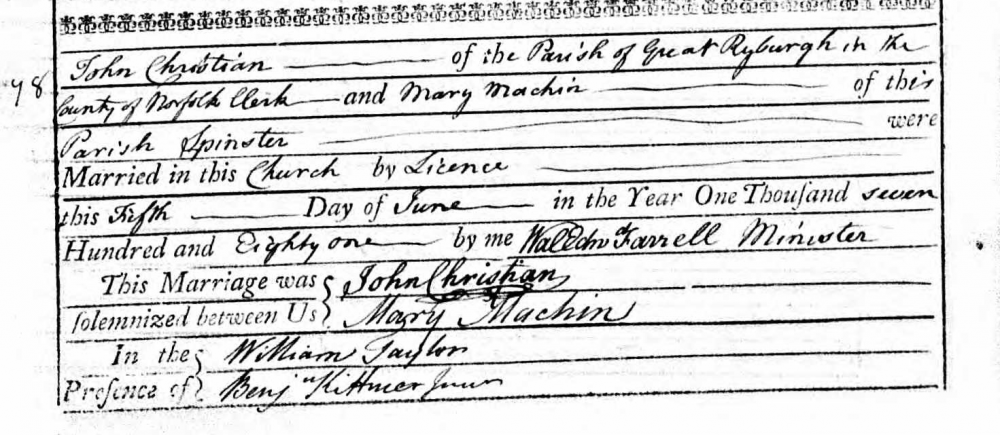 Examination of the original Registers reveals that he was acting as Charles
Mordaunt's Curate between 1781 and 1788, with Mordaunt appearing to be absent
from Ryburgh during much of that time. Similarly John Christian seems to have
"sublet" his living at Knapton to Curate, Hugh Hill. Was this to secure a better
economic outcome for all concerned, the Peterhouse "old boys" network or both?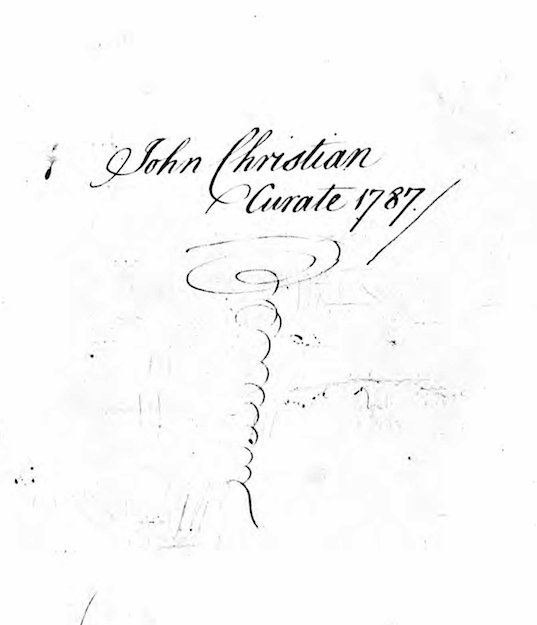 Further research in the Registers shows that the Walter Edward Farrell "Minister",
(also a Peterhouse man) who married John Christian and Mary Machin also acted in
the capacity of Minister at Ryburgh.... as did briefly in October/November 1780, John's
younger brother Edward.
A further trawl of the British Newspaper Archivefound a few further references to John
in Ryburgh, concerning debtors and creditors of local individuals or property auctions.
Norfolk Chronicle on 24th. December 1785: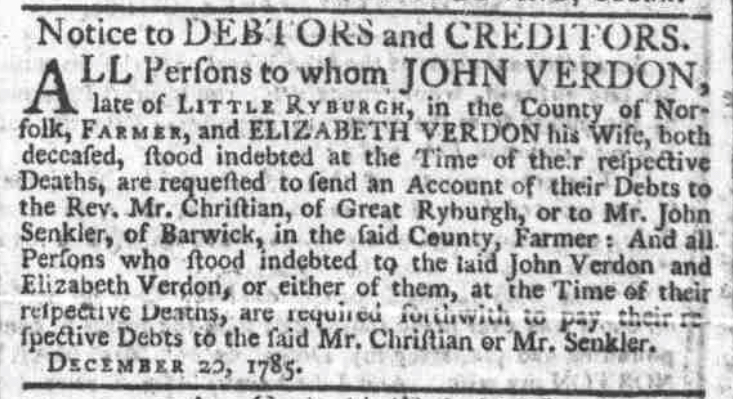 Norfolk Chronicle on 29th. September 1787 would seem to be a reference to John's
brother Edward given the Docking location: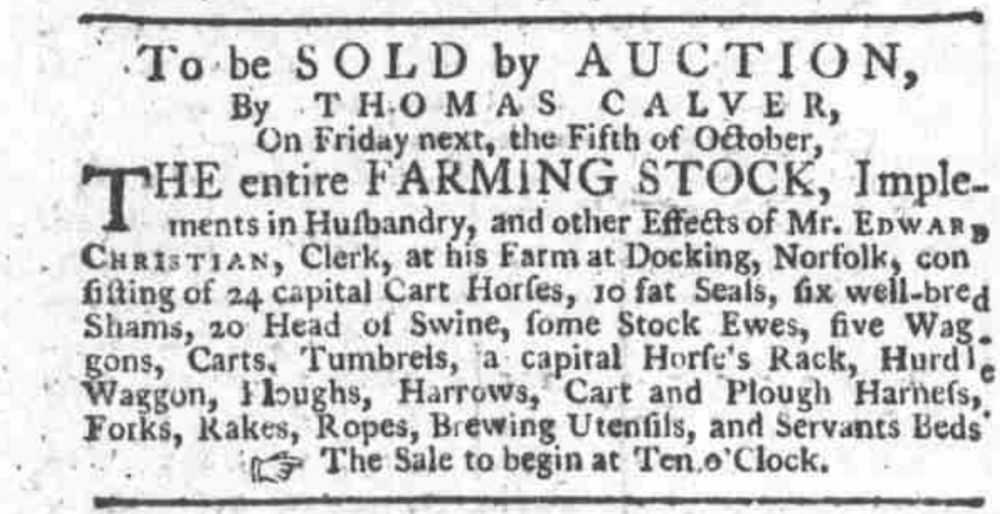 Bury and Norwich Post 8th March 1786: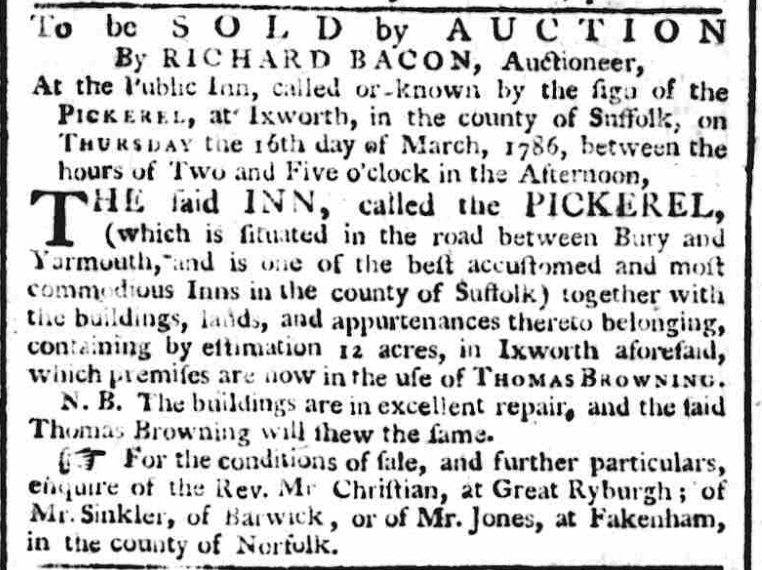 The most revealing of these other references appeared after his death in the Norfolk
Chronicle on Saturday 27th. September 1788: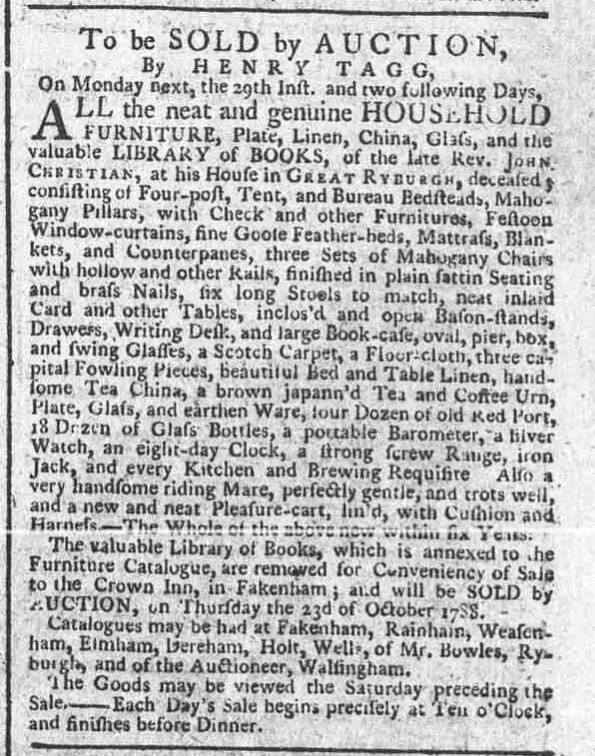 Was his "House in GREAT RYBURGH" the Rectory that was subsequently rebuilt by
Rev. William Ray Clayton, Mordaunt's successor to the the living?
The remainder of the story is full of unanswered questions. This advert doesn't really
describe an impoverished curate since it suggests that his household had been set up
anew on his move to Ryburgh. As with his burial records however, there is no "last will
and testament" to be found as yet.
On the 15th August 1788, Mary Christian put her name to the following administration bond:
I Mary Christian of Great Ryburgh
in the County of Norfolk widow mentioned in the Administrati-
on Bond hereunto annexed, maketh Oath and saith, That she verily be-
lieves John Christian her late Husband late of
Great Ryburgh aforesaid Clerk
Deceased, died without any Will by him made: That she will well and
truly administer all the Goods, Rights, Chattels and Credits, of the said Deceased,
which at or since his Death havve or shall come to the Hands or Possession of
her this Deponentm by paying the Debts of the said Deceased, as far as such Goods,
Rights, Chattels and Credits, will extend, and as by Law she is bound: That s
he will make and exhibit a true,full,plain and perfect Inventory of all
and singular the said Goods, Rights, Chattels and Credits, of the said Deceased,
and render a true and just account thereof , when she shall be thereunto law-
fully called,
Sworn at Great Ryburgh
the 15th Day of August 1788
before me John Crofts

In what way he was able to provide for his widow we do not know.
Mary's own will (proved August 3rd. 1820) does survive. She had
returned to Pakefield, her family home and died a widow. The only mention of family is
her sister Ann Wooton who seems to have been the chief beneficiary
The next stage was an Internet search and it was there through the pages of Ancestry
that I made contact with Julian Ironside in France with origins in common to our
Reverend Gentleman. He responded quickly to my enquiry and kindly shared his
researches, to our mutual benefit, and it was he who pointed me to the well connected
family of our Rev Christian.
The immediate family were from Cumberland and they in turn had come from the Isle
of Man, having dwelt there since the late 14thC. In the 16th Century the name was
changed to Christian from its Manx name McCrystyn. The family held the hereditary
title of Deemster ( a judge), one of two of this rank that traditionally upheld the law on
the island. From what has so far been deciphered from the arms on the ledgerstone it
is clearly a member of the Christian family from the Isle of Man that lies there. It was
then that I asked one of the questions which had been nagging at me since I first
heard the name:
Was the Rev. John related to Fletcher Christian of "Mutiny on the Bounty" fame? The
answer came back: Yes, they were first cousins: John's father, Humphrey and
Fletcher's father, Charles were brothers, the children of Barrister John Christian of
Ewanrigg Hall, Dearham, Cumberland. Julian's connection inevitably is a little more
distant being "3rd Great Grand nephew of 1st cousin 2 x removed"
The other more pressing questions were:
Why the absence of burial records?
Why such a plain inscription on such a tomb for such a well-to-do man?
Why no local press coverage?
Was this the manner in which a suicide was dealt with in these C18th polite circles, in
spite of the verdict of Accidental Death?
Although Bounty set sail in 1787, news of the Mutiny which took place in April 1789
could have had no effect upon John's behaviour. If anyone can add further to the brief
history of this man, please get in touch.
It is possible that the Inquest records have survived and are to be found in the Norfolk
Record Office amongst the Quarter Sessions records, that is my hope and the next
port of call.
copyright 2017